Okay, not quite.  I overstated my title for dramatic effect.  But that's how shocked I was to read Star's post today.
Just when I had finally given up my pretension of being "more Pagan" than [fill in the blank], Star Foster has drawn the battle line again.  In a recent post here on this blog, I confessed that I had been guilty of a kind of Pagan fundamentalism, presuming to define my form of Paganism as the Paganism par excellence.  I followed that up with another post where I articulated a vision of the Pagan community that both (1) removed myself from the center of the Pagan universe and (2) made room for those whose Pagan credentials I had doubted (namely deity-centered Pagans, or as Star calls herself "devotional polytheists").  Below is my picture of what I have in mind.  The green circle represents the penumbra of the "Pagan umbrella".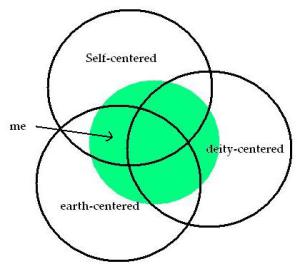 If you're interested, you can read the details here.
Then today, M.J. Lee posted an essay at Humanistic Paganism where she questioned why hard polytheism seems to be on the rise in the Pagan community.  I think it is a legitimate question for a naturalistic Pagan to ask.  From the comments, though, several polytheists were offended, Star Foster among them.
In her blog, Star makes the remarkable claim that she and M.J. are just not part of the same religion:
"Lee and I aren't of the same religion though, on any level. She's an environmental atheist, and I am a devotional polytheist. The only thing that connects us is this word: Pagan.  I'm not saying Lee isn't Pagan, or that I'm not Pagan, but I am saying this is one instance where the word Pagan loses all meaning."
She concludes by practically conceding the label to the naturalists:
"I'm also aware that the perhaps the battle for the word 'pagan' may have been lost. As society at large increasingly begins to identify the word with secular environmentalism, and as environmental atheists embrace the term, then I have to wonder if I am on the wrong side of history."
What's so ironic about this statement is that, just a month ago, I was asking the same question, but from the other side of that "battle line".  From my perspective, it was the deity-centered Pagans who are redefining me out of Paganism.  Check out Ian Phane's comment to Star's blog a year ago:
"P.S.: I think there are a small minority of pagans out there who are truly making it all up.
"They are those who don't acknowledge any gods, ancestors, spirits, or anything else that we received from traditional paganisms. They are usually ecologically-minded materialist atheists whose spirituality is rooted in the sacredness of nature and life. They will sometimes describe themselves as "spiritually, but not religiously, pagan." They tend to see ritual as psychologically meaningful, but nothing more, as they don't believe in anything non-physical. For them, the gods and elements, and ancestors, and all that is non-corporeal are just symbols.
"From my point of view, they are fellow travelers, and welcome to fellowship with us, but I don't think of them as pagans. I see paganisms as essentially religious, not just spiritual."
Somehow, we naturalistic Pagans have gone from barely deserving a postscript in the discussion of Pagan community to practically taking over now.  As much as I wish that were true, I don't see the evidence of it.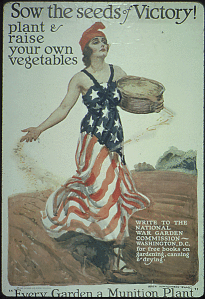 I admit that I have been guilty of engaging in the "not Pagan enough" rhetoric myself on this blog.  But I've come to believe there's room enough under the Pagan umbrella for me, M.J., and Star, for the "environmental atheists" and the "devotional polytheists".
The balance of Star's post is about what a pain in the ass it is to talk to militant atheists about spiritual experience.  And I totally agree with that.  See my post about trying to talk to atheists or check out the conversation I had with Rua Lupa in the comments to her essay over at Humanistic Paganism earlier this year which was like two trains passing in the night.  But honestly, I don't think M.J. is guilty of the "evangelical atheism" that Star accuses her of.
I tried to figure out what exactly upset Star, but she only mentions one specific thing:
"My religion is not a matter of whim. It's not a matter of want. Lee keeps asking why people want "supernatural" Gods. As an atheist she cannot conceive of people needing them, and so she phrases her questions in terms of whim."
But I don't think this is what M.J. meant at all.  In fact, she does phrase her question in terms of "need".  M.J. writes:
"I don't think people create or turn to supernatural beings because they have been befuddled by the use of personified symbols. It is not the symbol that is the cause, it is the need.
"I think if religious naturalism can truly meet our instinctual needs, the needs religion traditionally addressed, then it will grow and supernaturalism will decrease; if not, then humans will continue to find new and ingenious ways to justify supernaturalism and supernaturalism will grow (with or without personified symbols)."
M.J. could just as well have entitled her essay, "Why do people need supernatural gods?"  Personally, I think that would be more insulting, not less — but that's not me.  It seems like Star read the title and stopped there.  Anyway, to all those polytheists who were upset by M.J.'s piece, I appeal to you re-read the essay and note that M.J. admits that she does not understand your experience.  Her essay, I believe, is more of an attempt to frame the question, than dismiss that experience.