I got some really awesome Christmas presents this year, so I thought I'd brag a little.
"Ashes and Snow" by Gregory Colbert
The first was the Ashes and Snow DVD.  If you're not familiar with Ashes and Snow, it's a "poetic field study" by Gregory Colbert that depicts a world in which the natural and artificial boundaries separating humans from other species do not exist.  Here's a clip on YouTube.  I already have a beautiful photograph by Colbert hanging in my living room.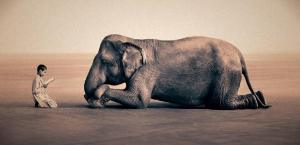 I read somewhere that Colbert just asked the boy above to go start reading to the elephant and the elephant walked over and knelt down in this way.
My wife also bought me this photo and gave it to me for Christmas this year.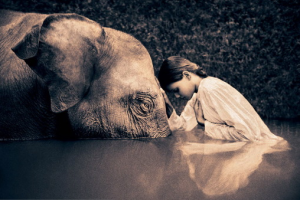 The main site for  Ashes and Snow is here.  There are many beautiful photographs of humans interacting with other animals, including whales and orangutans.  The film was equally beautiful and was narrated by Lawrence Fishburne.  It shows humans interacting with manatees, meerkats, and even cheetahs.
The Sundance reproduction (by Alan Barbick)
The second present was a reproduction of a Native American rock painting by artist Alan Barbick.  We had bought this at a Pow Wow last autumn, and I justified the cost by saying my wife could hide it and give it to me for Christmas.  The painting is from Meyers Spring, Texas and dates to around 1650 CE.  I like it because it is actually two different paintings; the humanoid figures are older and the sun mandala was painted over top of it at a later date — which reflects the eclecticism of my practice well.  The "horns" on the figures have obvious significance for Neopagans.  You can't see it in the photo, but the rock has flecks of a reflective element that makes the rock sparkle in the light.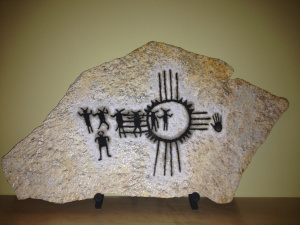 Here is the original from Meyers Spring: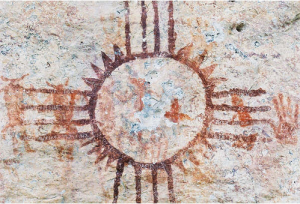 I also really like that the creation of these items is a spiritual path for the artist, something that he describes on his site as his "Vision".  You can see more images of Alan's work at his website.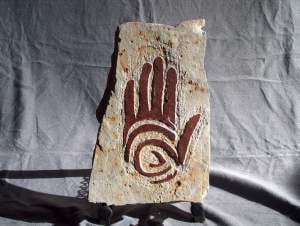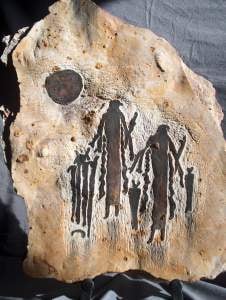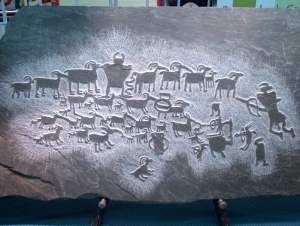 Snow White and the Huntsman
Say what you will about this movie, but visually it was beautiful.  And, really, how often do Pagans get to see a movie with themes of Celtic sovereignty (the mystical connection between the virtue of rulers and the land they rule) intertwined.  The Sanctuary scene with the White Hart was great.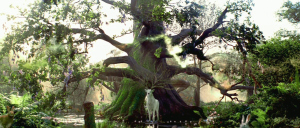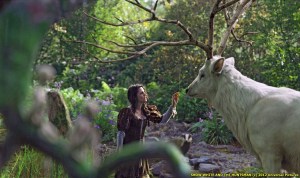 (Reminds me of Princess Mononoke.)