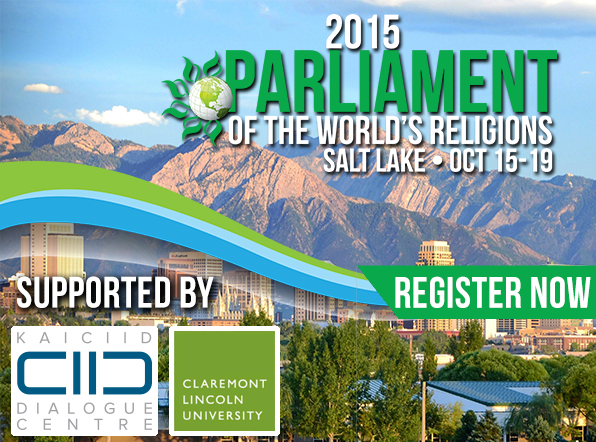 I am very excited to be attending the Parliament of World Religions starting this Thursday in Salt Lake City. My sole complaint is that there are too many awesome events and I have to choose between three or four not-to-be missed opportunities for each and every block of every day. I'm honored to be speaking on a panel of Pagans responding to Pope Francis' environmental encyclical (Saturday at 3:30!) — which gives me an opportunity to talk about (by way of contrast) the Pagan Community Statement on the Environment. (So at least for that block, I don't have to make any difficult choices.)
There's some great Pagan programming, and I'm excited to connect with supporters of the Pagan environmental statement like Andras Corban-Arthen and Heather Greene (both of whom are also on the panel), as well as Karen Tate, Vivianne Crowley (who may be the reason I am Pagan), Angie Buchanan, Kirk Thomas, Ivo Dominguez, Jr., Drake Spaeth, Wendy Griffin, Holli Emore, Ruth Barrett and many more. As a lover of the Goddess, I am definitely going to catch the session entitled, "Sons and Lovers of the Sacred Feminine," which will include Drake Spaeth, River Higginbotham, Ivo Dominguez, Jr., Donovan Arthen, and Claudiney Prieto. And I'm also hoping to catch "The Earth, the Air, the Water: It's Elemental: A Pagan Perspective on the Environment" by Peter Dybing, Wendy Griffin, Holli Emore, Paula Hermann, and David Linton. And I can't miss the Patheos panel discussion which will include our own intrepid editor, Jason Mankey!
But for much of the conference I'm going to take advantage of the multi-faith nature of the gathering and attending non-Pagan events. Mormon feminist activist, Kate Kelly, will be speaking (See here for "Why this Pagan cares about the LDS Ordain Women movement") as well as one of my favorite Mormon thealogians, Margaret Toscano (See here for "Finding the Pagan Goddess in a Mormon temple"). A highlight for me will be hearing Terry Tempest Williams, an environmental activist from Utah and author of Refuge, An Unspoken Hunger, and When Women Were Birds. I'm also hoping to catch a session about emerging Mormon environmental stewardship — something that interests me both as a former Mormon (FoMo) and as an environmental activist. (See here for "Words are not enough: What to do after you sign 'A Pagan Community Statement on the Environment'".)
There's a session explaining Quaker practice — something that has always intrigued me due to my fondness for the writing of Quaker Pagan, Cat Chapin-Bishop. I'm also excited about participating in a "Cosmic Mass" with Matthew Fox, and possibly meeting Trebbe Johnson, author of The World Is a Waiting Lover, which has inspired my own developing earth-centered devotional practice. I'm hoping to meet Rev. Fletcher Harper, as well, the Executive Director of GreenFaith.org. It's going to be incredible!!!
I'll see you there. If you're going and want to connect, shoot me a message on Facebook.