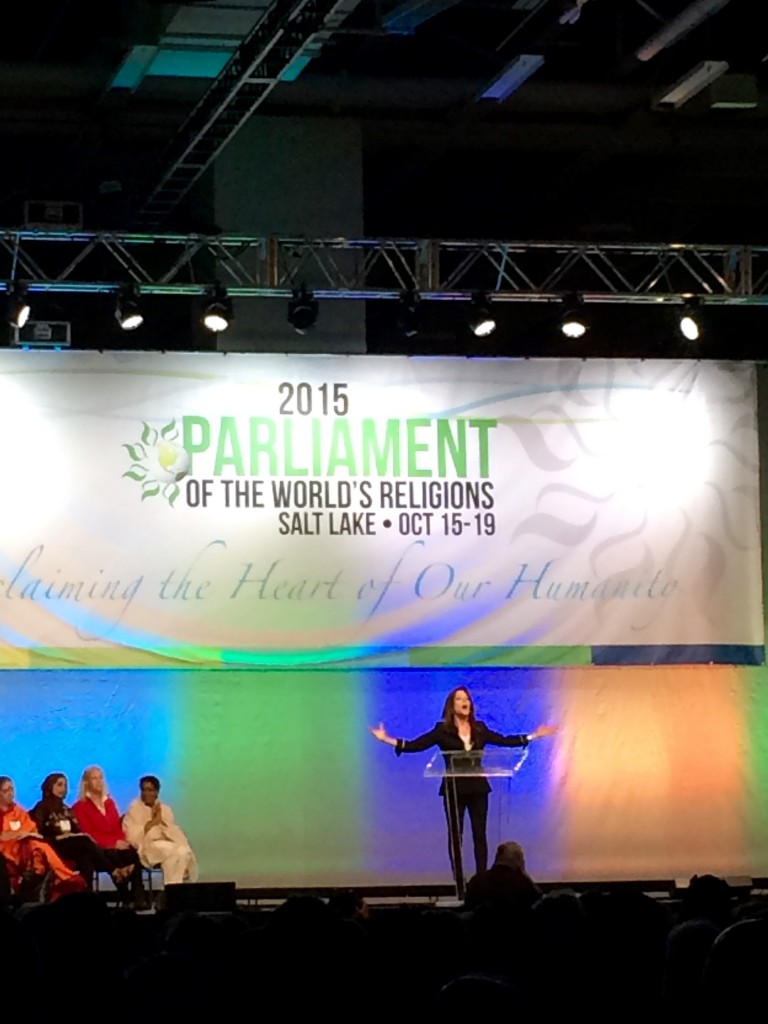 Here are some soundbites from the Parliament of the World's Religions in Salt Lake City:
Intersectionality: "If you are a feminist, you are an environmentalist. If you are an environmentalist, you are a feminist." — LDS Terry Tempest Williams
Women's ordination: "We don't need a revelation; we need a revolution." — LDS Terry Tempest Williams, on the Mormon Ordain Women movement:
Capitalism and the environment: "If commerce starts to undermine life, then commerce must stop, because life has to carry on." — Hindu Dr. Vandana Shiva
Women's rituals: "God is a radical too." — LDS Teresa Edmunds, on coming out as a Mormon woman who performs laying on of hands (which is officially prohibited to LDS women)
Being global citizens: "A focus on rights is not adequate; there must be a focus on responsibility." – -Hellenic Gwendolyn Reese speaking on the shift from a polis model of citizenship to a Cosmo-polis model of citizenship.
Archetypes: "Carl Jung was not entirely kidding when he called himself a polytheist." — Pagan psychologist Drake Spaeth, responding to the notion that seeing the gods as expressions of Jungian archetypes diminishes the gods, an idea which he said results from a misunderstanding of what Jung wrote.
Priestesshood: "Every woman here who is a healer is a priestess. Every woman here who is a teacher is a priestess. Every woman here who feels a calling within is a priestess." — spiritual teacher Marianne Williamson
Mothers: "Passionate and freethinking women raise passionate and freethinking children. Passionate freethinking children grow into passionate and freethinking adults. Passionate and freethinking adults are very difficult to manipulate and almost impossible to control." — spiritual teacher Marianne Williamson
Feminine divine: "The divine goddess is not just beautiful — she is fierce!" — spiritual teacher Marianne Williamson
Dancing: "Sweat is our gift to the community." — Dominican-turned-Espiscopal priest/theologian Matthew Fox introducing the Cosmic Mass, which culminated in a rave-like dance
Prayer: "We've been taught to pray from the neck up. We need to learn to pray with all the chakras — especially the lower ones." — Dominican-turned-Espiscopal priest/theologian Matthew Fox, introducing the Cosmic Mass
Wounding: "When we meet our Creator, we will be asked, 'Where are your wounds?' And if you respond that you have no wounds, the Creator will ask, 'Was there then nothing to fight for?'" — African Dutch Reformed cleric and anti-aparteid activist, Allan Boesak
Pope Francis' environmental encyclical: "Let me be the first to welcome the Pope to the ranks of Paganism." — Andras Corban-Arthen, (with humor) at the panel discussion on Pagan responses to the Pope's environmental encyclical
Heathenry and climate change:  "Ragnarok has already begun. … Our enemies are greed, fear, and insularity." — Diana Paxson, on a Heathen response to climate change
The "pagan" word: "I am not a pagan, a heathen, or a savage. I am a spiritual man." — opening words of Chief Francois Paulette. (His words were followed by applause. As a Pagan I found his words problematic, but I recognize the negative history indigenous people have with the words "pagan" and "heathen." Later, after Chief Paulette spoken, Andras Corban-Arthen spoke and said "I am a Pagan.")
The meaning of the Goddess to a gay man: "The Goddess showed me another face of the masculine. If the God represents all masculinity, he must have a face that is gay. Because I am masculine and gay. The Goddess showed me that. … My relationship with the God was healed through the Goddess." — Dianic Claudiney Prieto, at the "Sons and Lovers of the Divine Feminine" panel
Dispelling myths about Paganism: "I'd like to dispel the myth that we're just a bunch of old hippies … oh, wait …" — Andras Corban-Arthen at the Paganism 101 panel (humorously looking to his co-panelists Starhawk, Ruth Barrett, Angie Buchanan, Don Frew)
Creativity: "The oldest tradition is the tradition of making stuff up. We have as much authority to create today." — Starhawk, Paganism 101 Q&A panel
Feminist witchcraft: "Our holy book is female flesh and blood and the rituals we make come out of our embodied experience." — Ruth Barrett, Paganism 101 Q&A panel
Conflict in the blogosphere: "Nobody respects all ideas. Nobody should respect all ideas. Not all ideas are worthy of respect.… But you have to respect the person, because personal attacks stop the conversation." — Dale McGowan, Atheist channel editor for Patheos, on the difficulty of creating content guidelines for Patheos (there currently are none)