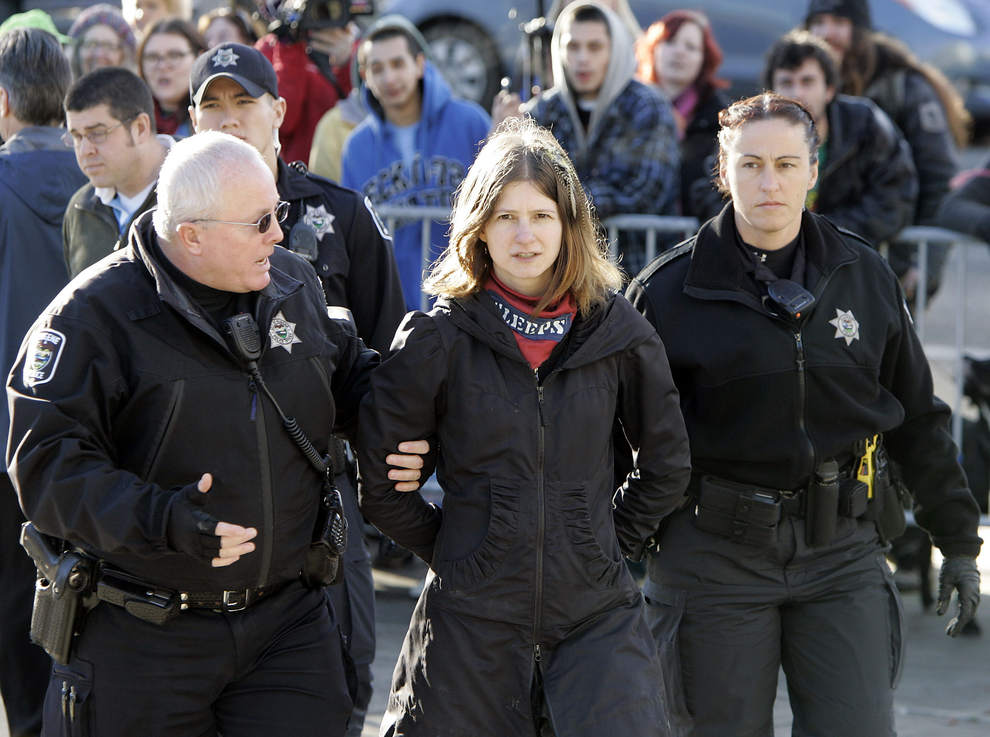 So you've already signed A Pagan Community Statement on the Environment, and you don't want Earth Day (April 22) to go by unobserved. What can you do? Over the next 21 days, I will be offering practical and productive suggestions for how you can honor the Earth this Earth Day.
One thing you can do to honor the Earth this Earth Day is to participate in direct action. Every effective political movement throughout history, from the struggle for the eight hour workday to the fight for women's suffrage, has used some form of direct action.
Direct action refers to various forms of public protest which bypass the usual, institutional forms of communication. Examples of non-violent direct action include sit-ins, strikes, workplace occupations, and blockades. Direct action often includes acts of civil disobedience, in which a person intentionally breaks a law to place themselves in an "arrestable" situation in order to make a symbolic statement. Direct action can be used to complement other forms of political action.
While direct action is intended to achieve an immediate goal, like preventing the bulldozing of a green space with a blockade, it is also effective as a symbolic statement which can draw others' attention to the need for change and cause them to question deeply held assumptions about the way society is organized.
A recent example of direct action by members of the Pagan community comes from November last year, when Pagan spiritual leaders, T. Thorn Coyle and Marissa Evans, along with twelve other interfaith leaders, were arrested for trespassing at the Alameda County Court House. Their sit-in was part of a protest demanding that District Attorney Nancy O'Malley drop all charges against the "Black Friday 14", protesters affiliated with the Black Lives Matter who blocked access to the trains in one of the busiest parts of the Bay Area on Black Friday in 2014.
If you're like me, and new to direct action, then you need to educate yourself. Here are some resources for learning about and and planning to participate in direct action:
A Civilian's Guide to Direct Action
Organizing Cools the Planet booklet
Earth First! Direct Action Manual
Resources from The Ruckus Society
Anyone can participate in direct action. But those of us who enjoy certain privileges, like being able-bodied and being able to afford a legal defense, should consider that direct action is one of the ways can use our privileges to effect change.
You can also support organizations that engage in direct action, like Greenpeace, Friends of the Earth, and Earth First!
"Never doubt that a small group of thoughtful, committed citizens can change the world; indeed, it's the only thing that ever has." — attr. Margaret Mead