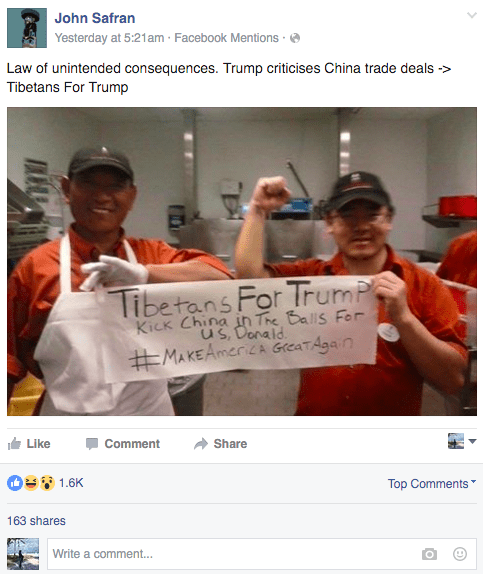 Tenzin Pelkyi, a writer, law student, and editor at tibetanfeministcollective.org (and recent interviewee at this blog) has an intriguing article up today at medium.com examining some of the idiosyncrasies and unintended consequences of US-China-Tibet politics. In it she examines two allegedly Tibetan men holding up a sign reading "Tibetans for Trump. Kick China in the Balls for us, Donald #MakeAmericaGreatAgain."
As odd as it may seem for card carrying liberals and others who are simply confused by the popularity of Donald Trump, there are at least a couple historical reasons why Tibetans would prefer the brash Republican in the White House.
The normalization of trade relations with China and the effective de-linking of human rights and trade with the renewal of Most Favored Nation (MFN) trade status in 2000 under the Clinton administration was a significant blow to the human rights lobby and Tibetan Americans who seek to hold China accountable for continued rights violations in Tibet.
And:
That's why, when then-President Bush awarded Tibet's Nobel Prize-winning spiritual leader, His Holiness the Dalai Lama, the Congressional Gold Medal in 2007, Tibetan Americans considered the act a significant victory, evident by the marking of this event every year across the diaspora in gratitude to the Bush administration.
And despite President Obama warmly welcoming the Dalai Lama at a National Prayer Breakfast last February, the meeting did nothing to change US-China policy, leading one writer to (quite convincingly) state that "Obama's Meeting With The Dalai Lama Is An Empty Gesture." So, over the last 25 years, the only US President to offer a "victory" to Tibetans was George W. Bush. And now it is Trump who is providing the strongest anti-China rhetoric in the 2016 Presidential campaign.
Despite that, Pelkyi assures us that:
Young, politically engaged Tibetan Americans, however, still overwhelmingly favor liberal values and policies. This election year, I have seen Tibetan community leaders and figures endorse and support either or both of the democratic presidential candidates. Hillary Clinton, on a recent visit to Minnesota, was confronted about the latest Tibetan self-immolation last month, which renewed Tibetan and Tibet activists' interest in her candidacy. Many Tibetans have, notably, shown immense enthusiasm for the Bernie Sanders presidential campaign. Many have noted his key role in the release of Tibetan political prisoners during his time in the U.S. Senate. His website also reaffirms his commitment to Tibet's political question, and his campaign has even sparked a "Tibetans for Bernie" offshoot.
The topography of the contemporary US political landscape is complex and, admittedly, at times perplexing. I'll be posting a new poll to try to gather more/better data very soon.
Read Tenzin Pelkyi's full article here.
Stay in touch with American Buddhist Perspectives on Facebook:
Become a supporter of American Buddhist Perspectives
"Society is welded in unity with care and concern for one another when generosity is exercised with a warm sense of personal involvement." – Bhikkhu Bodhi
---
Keeping up American Buddhist Perspectives takes a *yuge* amount of time. You can show some love by buying me some coffee – the fuel with which this and the rest of my life is powered.
No monthly donations, just give when you can and feel like it.