BIO: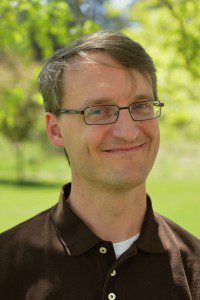 Chris Gehrz is professor of history at Bethel University (not this one… or this one… or this one… the one in Minnesota), where he recently survivedconcluded a stint as faculty president.
While glad to be back home in Minnesota, Chris spent ten years on the East Coast, studying at the College of William and Mary and Yale University (PhD, 2002). He trained as a European and international historian, and still gets to teach classes on 19th/20th century Europe, the two world wars, and the Cold War. In 2015 Chris collaborated with former student Fletcher Warren on Bethel at War, 1914-2014: A Digital History of a Christian College in a Century of Warfare.
But for the most part, his research has taken him into the histories of Pietism. Chris edited The Pietist Impulse in Christianity (Pickwick, 2011) and The Pietist Vision of Christian Higher Education: Forming Whole and Holy Persons (IVP Academic, 2015), and his newest book, The Pietist Option: Hope for the Renewal of Christianity, now available from InterVarsity Press. Most recently, he wrote a profile of Philipp Jakob Spener for Christianity Today.
His current research project is a spiritual (but not religious) biography of Charles A. Lindbergh. Look for it to come out from Eerdmans some time in 2021.
Chris also blogs at The Pietist Schoolman, where you can learn about his new role leading summer history tours in Europe and the United States. You can follow him on Twitter @cgehrz.
PUBLICATIONS:
The Pietist Option: Hope for the Renewal of Christianity

Written by Christopher Gehrz and Mark Pattie III
Copyright: 2017
Publisher: IVP Academic
The Pietist Vision of Christian Higher Education: Forming Whole and Holy Persons

Edited by Christopher Gehrz
Copyright: 2015
Publisher: IVP Academic
The Pietist Impulse in Christianity

Edited by Christian T. Collins Winn, Christopher Gehrz, G. William Carlson, and Eric Holst
Copyright: 2011
Publisher: Pickwick Publications