Even though I've been in Olympia for a year I feel as though I've hardly explored any of it. Having two small children makes it tough. Sure, I take them out with me, but attempting a two mile walk can take close to two hours with them! However, thanks to a new friend here I have discovered the magic of the Mclane Creek Nature Trail. There's an easy, flat trail that loops around a small lake, with lots of ducks and beaver dams. The western side of the trail has a stream where salmon fight to spawn in the autumn. There are stands of devil's club, one of my favorite plants, and in the bog there is skunk cabbage.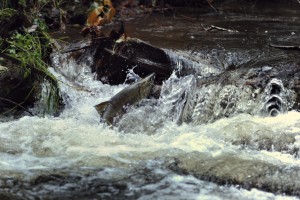 I first walked the trail in late September. The magic was palpable. I immediately got a sense that Ana and Arddu were present and at home here. It's a damp, mossy, green and grey space. During the autumn I went nearly every week for 6 weeks, sometimes three times a week. Knowing one spot and being able to notice the subtle changes helped me feel more connected to this new-to-me land.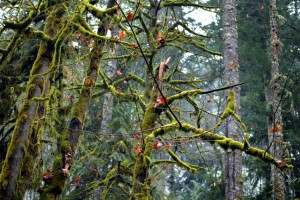 I haven't been back over the winter. My rain boots cracked and I need some new wet weather gear.
This place reminds me a bit of the old growth forest I grew up in SE Alaska. I feel good when I walk at Mclane. My head is quieter. The vegetation and land feel ever so faintly familiar. I look forward to learning even more about this particular place and sharing more of the magical places around here as I find them.