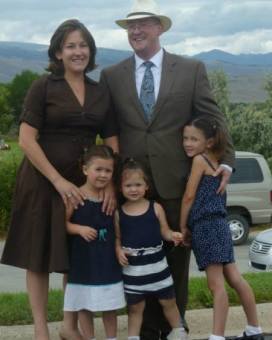 Olivia and Emma died a year ago today. It didn't seem like it could possibly be real then, but time brings the weight of reality to tragedy.
We have their prayer cards on our refrigerator. In the morning every day I look at their faces and say a prayer for Sean, Becca, and Vivian. It's not much, but it's important to carry their grief through my days in some kind of tangible way. It's always in my heart — no single day has gone by in this last year when I haven't thought of them.
Emma and Sienna were born on the same day, five years apart. On her birthday this year, the first thing we did was watch a video of Emma's last birthday that her aunt had put on facebook. It was the most adorable thing I've ever seen, Emma lisping through a song she had made up for her birthday about how she is a big girl now, but getting more insistent with every rendition. Sienna laughed, and I cried.
I'm crying now, of course. I've been wrestling for days with whether I should write about this at all. Grief is a strange thing when it doesn't quite belong to you — I almost feel guilty, like I don't have a right to these tears or these words. I wasn't family, or even a close friend. I only knew Olivia as a baby, and never even met Emma. But their loss was so great and the grief so heavy, even after a year. If anything it's grown heavier with time, as their deaths have settled into reality and become a thing that is, rather than a thing too horrible to be true.
While I was making cinnamon rolls for Sienna's birthday, she asked me if I was going to cry on her birthday every year, now. The question startled me. I didn't know what to say, and I felt terrible. I started to apologize, but she said, "It's okay. I'm glad me and Emma have the same birthday, and I was thinking that maybe we could celebrate her birthday, too. I just don't want you to cry…but it's okay if you do."
Later I was texting about it with my friend
Andrea
, who said, "We cry for Becca and Sean and that's okay, because it is all we can do for them. We can't fix it or make it better, but we cry and remember that their loss is part of all of us as a whole." I think that's true. They lost their daughters, and Vivian lost her sister, and they have to bear the weight of that grief. The rest of us can't make it any easier for them, but we grieve, too, because that's what it is to be human.  We carry their loss with us as best we can, because that's what it is to be part of the body of Christ.
But we also remember that God has promised us that death is not the end. So we hope with them, too, and rejoice at the thought of them being reunited with Emma and Olivia one day. Until then, our prayers go with them.
I began to know my story then. Like everybodys, it was going to be the story of living in the absence of the dead. What is the thread that holds it all together? Grief, I thought for a while. And grief is there sure enough, just about all the way through. But grief is not a force and has no power to hold. You only bear it. Love is what carries you, for it is always there, even in the dark, or most in the dark, but shining out at times like gold stitches in a piece of embroidery.
–Wendell Barry, Hannah Coulter (respectfully lifted from Sean's facebook page)