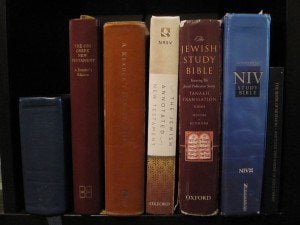 ( Cross-posted at Times&Seasons, where there are more comments.) We're 80% of the way through our Old Testament, and the time has come to start looking forward. As I did for the Old, so I will do for the New. This time, I'll break it up into a few posts, probably a few weeks apart. (Part 2 is now posted.)
As before, the absolute best and easiest thing you can do to increase the quality and frequency of your Bible study is to replace/supplement your KJV with a different translation. You can do it with a free app or website, or go old school and buy hardcover. I do both. Below are some recommendations on Bibles.
Main Translations
Single-author Translations
These tend to be a little quirkier since they are produced by individuals, but no less interesting.
Text Criticism
If you want to understand the Greek textual/manuscript basis for differences in translations, these are your two resource.
Things on the KJV, How We Got the (English) Bible, LDS and the Bible
Part 2 to follow in a few weeks.