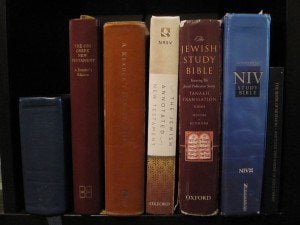 It's that time of year when sales happen, Christmas money appears in your stocking, and January is coming and bringing changes. Of course, we'll start studying the New Testament,  but our Church-oriented Gospel Doctrine experience will happen half as often with the new 2-hour schedule.
 "For years Church leaders have been emphasizing that home is the best place to live, learn, and teach the gospel, and gospel learning and teaching should be part of our daily lives, not confined to Sunday classes."- Source
As I've said elsewhere, I believe you cannot fully learn from scripture unless you are also actively learning about scripture. The first is the act of a disciple and the second that of a scholar. This is the first of several posts recommending resources and ideas about study and learning at home, as individuals, families, and informal groups. I'll be linking to past posts as well, like this one on using multiple Bible translations in family/group study, and this one on a basic approach to scripture study.
You'll note that these books are a mix of LDS and non-LDS; while there are some unique LDS positions that require LDS exposition, there is so much LDS can learn from those who have devoted their lives to studying scripture professionally and personally. We lose out when we think that the injunction to seek out "the best books" excludes non-LDS authors. However, I also recognize that many feel overwhelmed and don't know where to begin, which is why I provide these lists.
I've starred the books available in Logos format; that's a free reader (you can pay for more functionality) wherein all the verses and many other things are hyperlinked to each other, and scrollable in sync. I find it extremely useful, and buy everything I can in Logos now.
Top Five Intro Books
If this is the first year you want understanding beyond the KJV, Church magazines, and manuals, this is the list for you.
Top Five "Medium" Books
If you've got some familiarity with the things above, try these. #4-5 are more in the "tool" category.
A few other things:
As always, you can help me pay my tuition here, or you can support my work through making your regular Amazon purchases through the Amazon links I post. You can also get updates by email whenever a post goes up (subscription box on the right). You can also follow Benjamin the Scribe on Facebook.