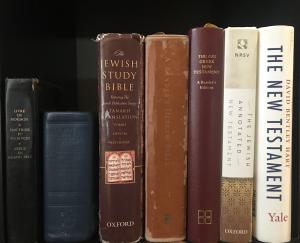 (Link to Part 1, the Short List)
First, I'm doing a book giveaway on Facebook. In order to qualify, you need to Like and Follow my page, and then Share this post.
Now, back to resources. I want to emphasize that the absolute best and easiest thing you can do to increase the quality and frequency of your Bible study is to replace/supplement your KJV with a different translation. This is almost a silver bullet for increasing understanding, appreciation, and enthusiasm. You can do it with a free app or website, or go old-school and buy hardcover. I do both.
In the lists below, I've starred the really important stuff.
However, personal study out of a non-KJV Bible is also something that strikes many Mormons as unfaithful or not allowed. So let's begin with some books and articles on… 
The Bible in General, the KJV, and How It Became the Official LDS (English) Bible
Main Translations
Single-author Translations
These tend to be a little quirkier since they are produced by individuals, but no less interesting or useful.
The Greek Text(s) and Tools
If you want to understand the Greek textual/manuscript basis for differences in translations, these are your two resource.
If you want to play with the underlying Greek, let me be clear; DO NOT USE STRONG'S CONCORDANCE and don't trust anybody who claims an understanding of meaning based on it. It's outdated, and was never intended as a dictionary to begin with. Instead, get the free version of Logos, the free KJV, and invest in this resource. (Link to Logos version.) You can jump directly from a KJV word into an essay about its meaning in the New Testament and Greco-Roman literature. I model this in a screencast, here. I buy everything possible in Logos. This can still be useful in paper, but you may need to use Strong's as a bridge to figure out what Greek word to find where.
As always, you can help me pay my tuition here. You can also get updates by email whenever a post goes up (subscription box on the right). You can also follow Benjamin the Scribe on Facebook. If you friend me on Facebook, please drop me a note telling me you're a reader. I tend not to accept friend requests from people I'm not acquainted with.