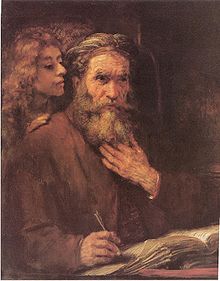 In those ancient days before ancestry.com, before DNA ancestor typing, before US census data, before the massive archiving of the Latter Day Saints, before Town Hall records, before Family Bibles with a Births and Deaths page, genealogical lists were the vital – and the sole – proof of who belonged to whom. The Bible has a lot of genealogies, telling us where sons belonged to fathers, and to tribes andto the stories of Israel.
In the Bible, genealogies were always and only male, listings of fathers and sons. Always, that is, before Matthew. Matthew includes four women in the genealogy of Jesus. Astonishingly. He traces Jesus' ancestry through all the generations since the people of God began, back to Abraham. And in his long list he makes special mention of four women.
The four women themselves are even more astonishing.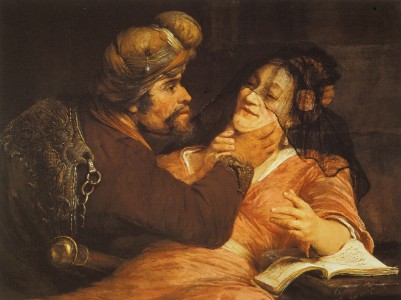 Tamar, (Genesis 38) was, as Matthew records, the mother of twin sons by Judah, and one of them, Perez, was Jesus' ancestor. Before she had them, Tamar had been wife to two of Judah's three sons, and each had died, leaving her childless. The rules of the day required Judah to marry his son's widow to a surviving son, but having lost two he had married to her, he was reluctant to give her his third. So Tamar languished in the tents of the women, poor, dressed in widow's rags with a miserable future ahead of her.
But she did she submit to this fate. Judah's wife died, and a few months he went on a journey. Tamar gussied herself up like a prostitute, using heavy makeup and a veil to disguise her appearance, and went ahead of him, waiting in a desolate place along the road, till Judah came. Judah enjoyed the pleasures of her company, and she persuaded him to give her his signet ring, his cord, and his staff, the signs of his patriarchy, until he sent her some payment.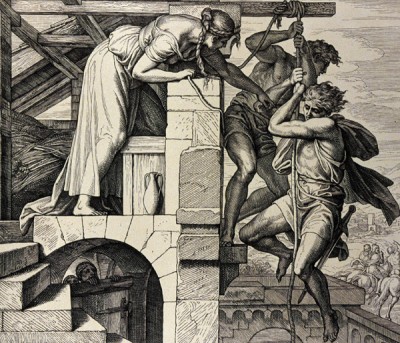 When Judah sought to recover his things but he could not find the prostitute anywhere. Later, when gossip came to Judah that Tamar was scandalously pregnant, an angry Judah brought her out to sentence her to die. But Tamar produced his ring, cord, and staff, saying these belonged to the father of her child. And Judah said, "She is more righteous than I, for I did not give her my living son." She bore twins, and Perez carried her lineage to Jesus.
Rahab (Joshua 2) was a prostitute in Jericho, and Joshua sent spies to scout the city, who came into her brothel. The authorities came hunting, to kill them, but Rahab, knowing there was about to be war and sensing the Israelites would win, hid the Israeli men among bolts of cloth, and later, lowered them down over the city wall, saving their lives. In return, she asked that she and her household be spared when war came. And they were. She lived the rest of her life among the Israelis. Rahab, then and now, is called the Mother of Israel.
Ruth (Book of Ruth) was a young widow without children.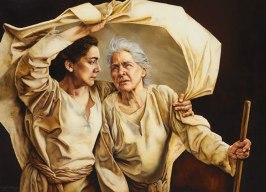 She and her widowed mother-in-law, Naomi, were in dire straits without men to provide for them. Naomi urged Ruth to return to her own family in Moab, but Ruth would not leave Naomi to die alone, and insisted on making the journey with her back to Bethlehem, Naomi's home. There, Naomi's wealthy cousin Boaz hired Ruth to labor in his fields, impressed by her kindness to the old woman. Naomi urged Ruth to seduce Boaz, and Ruth did. She bore a son, Obed, who became a forefather to Jesus.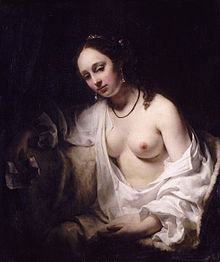 Bathsheba (2 Samuel 11-12) is listed by Matthew as the wife of Uriah the Hittite. Uriah, a general in King David's army, had a remarkably beautiful wife. David, smitten, spied on her while she was bathing, then sent soldiers to bring her to him. Uriah was away in battle. When Bathsheba became pregnant, David ordered Uriah killed in battle and married Bathsheba. The child she bore died, the prophet Samuel said, because of David's sin. But then David lay with Bathsheba tenderly, to comfort her, and another child was born, Solomon. Bathsheba guided his path to the throne, and he became the greatest of all the Kings of Israel.
Why did Matthew choose to mention these four women, as foremothers of Jesus? And why did he break with tradition and include women in this list?
The women have these things in common: their survival was at stake; they had grit and determination; they were clever, and sly in finding ways to turn their lives around. And, each of them exhibited kindness and mercy: Tamar, for Judah's mourning; Rahab, for the terrified spies; Ruth, for Naomi; and Bathsheba, for David, her abuser.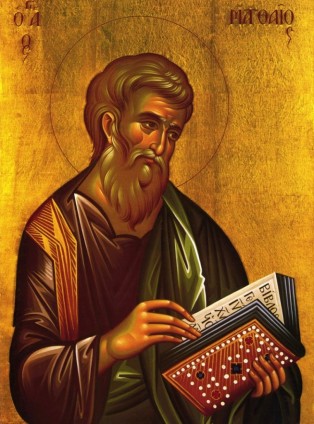 Jesus showed continual compassion for women like his foremothers, socializing with them and rebuking men who spoke ill of them. Matthew knew this about Jesus, and he shows us how important such women are to Israel and how vital to the coming of the Messiah.
______________________________________________________________________________________________
1. The Evangelist Matthew Inspired by an Angel, by Rembrandt von Ringe. Wikipedia page for Gospel of Matthew
2.Tamar and Judah. by Aert de Gelder. 1667 Wikipedia page for Tamar-Genesis.
3. Rahab Lowering Joshua's Spies Over the City Wall. image from www.biblicalarchaeology.org
4. Ruth and Naomi. image from www.womeninthebible.net
5. Bathsheba, by Willem Drost. 1654. Louvre Museum, Paris. Wikipedia page for Bathsheba
6. St. Matthew Orthodox Icon. image from Royal Doors liturgical and music page.