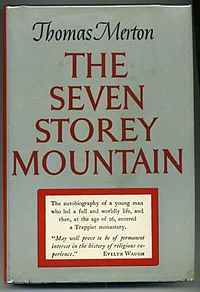 "Would you please tell me how you got invited to stay in a 13th monastery in Italy?" a friend recently queried me. With the decline of vocations to the religious life in the West, few of us have ever seen inside the walls of a convent or monastery, so my recent stay with the Servants of the Lord and the Virgin of Matara piqued the curiosity of my friends from all religious backgrounds. My curiosity about monastic life started after reading  Thomas Merton's autobiography The Seven Storey Mountain, a gripping conversion story, in which Merton,  like Saint Augustine centuries ago, turned away from the world of sensual pleasures and worldly honors and embraced an aestetic life of prayer and sacrifice.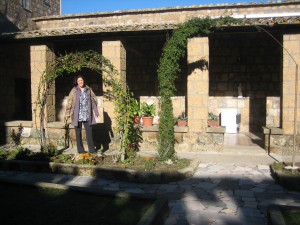 But my recent monastic vacation was more like Kathleen Norris's tale the The Cloister Walk, in which laywoman spends months with Benedictine monks and Norris recounts the beauty of reciting the psalms, the silence, and the slow passage of time. Unlike Merton, who joined a monastery, Norris only visited the monastery, then she wrote about her experiences and made monastic life understandable and appealing to thousands of laypeople like me.
Although I don't have a vocation to the monastic or religious life, the idea of retreating from the world for a brief period of spiritual refreshment–a monastic vacation–deeply appeals to me. So when I made plans to spend this past Christmas in Rome with my brother and his family, I contacted a religious sister I know in Rome and asked if her order would give me a quiet place to rest and pray for a few days.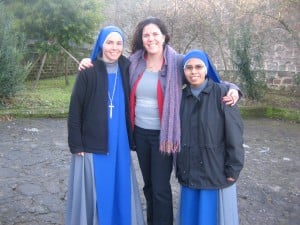 Thrilled at her affirmative answer, I took a two-hour train ride north of Rome and was picked up by two young religious sisters and driven to their new convent, which was built in the 13th century and until recently housed the Poor Clares (a Franciscan cloistered order). I was greeted by 80 sisters from 20 different countries–most of them in their 20s and 30s–and was warmly welcomed at all meals, community prayers, and recreational activities. I had a private room in a long, quiet hallway, and the sisters made sure I had heat and hot water, which is not easy to come by in such an old building.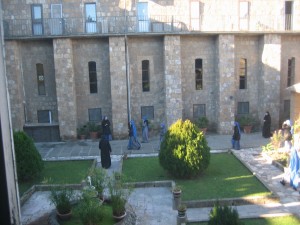 What is life like inside of a convent? First, to be clear, these sisters are not monastic–they have a calling work in the world, teaching catechism, running schools and hospitals. Their home was built as a monastery for cloistered nuns who never left the walls. But today's religious vocations–the relatively few we have in the Catholic Church compared to previous generations–tend to be more like the Servants of the Lord and do corporal and spiritual works of mercy, fortified by vows of obedience, poverty and celibacy, solidified by community life, daily prayers, and intense spiritual direction.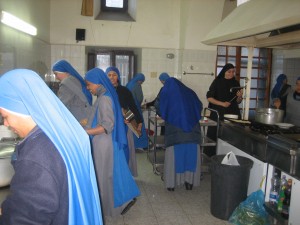 What most struck me was the joy the sisters have–joy in sacrifice and joy in serving others. I literally felt like I was surrounded by 80 of Santa's elves who were joyfully cooking, sewing, praying and ready to jump and do anything to make me comfortable, or just chat with me over a cup of coffee and some stale bread served with love. The Servants of the Lord wear a beautiful blue and gray habit, the blue symbolizing the humanity of Christ and the gray his divinity, and their eyes and faces radiate generosity of spirit.
My last night at dinner, I got up the nerve to ask, "Don't you miss the things of the world?" One American sister thoughtfully replied to me with another question, "Well, what do you think people most want in life?" "Happiness," I said. "Exactly!" she replied. "When I think about the things I gave up but I ask myself  'Will those things really make me happy?' And the answer is no. But really the call to this life is supernatural–it's a calling and a gift from God to live as a sister. It's deeply fulfilling to embrace this call, but God must call you first."
Acknowledging that their call to the religious life is just that–a supernatural calling–but there are many laypeople like me who long to share in their joy and community life for a brief period, the sisters throw open their doors to people like me who don't have a calling to the religious life but do deeply appreciate it. They ask for nothing–just come and be loved, taken care of, and do as much or as little of their religious life and works of service as you choose. There is indeed a deep joy in loving without expecting anything in return.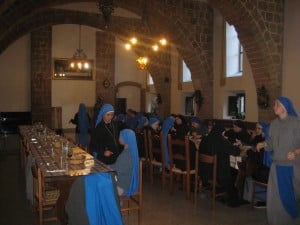 So, my monastic vacation was like my own version of Elizabeth Gilbert's Eat, Pray, Love, except I'm eating, praying and loving all in one place. Frankly, the food wasn't great–the sisters live off donated food–but I always got served first and was welcome to seconds of whatever they had. The prayer was both deeply personal and my heart was moved in many ways, but I was sure that the communal prayer and the sisters praying for me contributed greatly to my inner growth. Further, experiencing God's love is much bigger than any romantic love like that chronicled in Eat, Pray, Love.
Although there may be many reasons to lament the decline of religious vocations in the West, one more reason to pray for vocations to religious life is precisely because the religious of the church have long fortified the lay faithful with their prayers and example of warm love and eagerness to serve. We all could use a monastic vacation from time to time, even if our primary vocation, our path to serve God is through our work, families and friendships.