How can Yalies get more flow? Last night at the fourth meeting of the Calhoun Happiness Project I started at Yale, we discussed the meaning of flow—being so engrossed in an activity that time feels like it has stopped— and how busy, high-achieving students can get more flow in their daily lives. Of the 5 elements of Martin Seligman's PERMA theory of authentic well-being that we discussed last night, flow was the hardest one to grasp conceptually and figure out how to improve on. But Seligman is adamant that we can all get more elements of all 5 parts of his well-being theory he calls PERMA: Positive emotions, Engagement (flow), Relationships, Meaning and Achievement. In his book called Flow, Mihalyi Csikszentmihalyi gives numerous tips on how to increase flow in everyday life.
One obstacle to flow is just how busy students are. Who has time to stop and really get engrossed in one thing when all day is spent rushing to and from classes and extra-curricular activities? When I asked students to name when they experience flow, some said that like me, they experience it while engrossed in their studies. Another student practices meditation. A third student said she gets into flow when she works for nine hours straight at a restaurant students run once a week in Davenport College at Yale. She likes being so busy cooking and serving that she can't think about her upcoming midterm.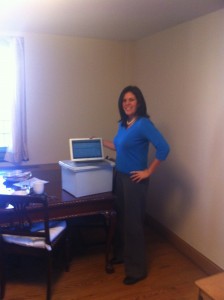 Before our meeting yesterday, I definitely experienced flow as I wrote about my new project on young adults and resilience. On the advice of a friend who says that doing work while standing up increases energy throughout the day, I put together a makeshift standing desk at home, using a plastic box on top of my dining room table. In just 2 days of writing from that standing position, I wrote 14 single-spaced pages about my new project. Yesterday alone I stood in the same spot for three and half hours writing. That's flow for sure.
Then I went on with the rest of my busy day, hustling back and forth from meetings and re-reading Martin Seligman's book Flourish over lunch. I also listened to a video lecture on productivity "hot spots" which prompted me to reflect on my goals and whether how I use my time actually lines up with those goals. Then I rushed off to eat dinner in Calhoun College, carrying Gretchen Rubin's book The Happiness Project with me.
In preparation for the evening meeting of the Calhoun Happiness Project, I re-read Chapters 5-8 of The Happiness Project while eating. I laughed out loud several times…Rubin is just hilarious. When I stood up after finishing dinner, I rushed out of the dining hall and was planning on running back up to my suite to prepare some more for the Calhoun Happiness Project meeting.
Suddenly I was aware of beautiful piano music in the Calhoun Common Room. I stopped dead in my tracks. Didn't I just read Rubin's advice in Chapter 5 to "Be Serious about Play"? Didn't she also say in Chapter 8 to take time to "contemplate the heavens'? Hadn't I been frantically trying to fit into my busy schedule time to go to all the amazing music and theater Yale offers? Was I really about to rush past this heavenly piano music? Isn't the first step in contemplating simply slowing down, something Yalies (including me) have a hard time doing?
I plopped onto a big leather chair in the Calhoun Common Room, said hello to another Calhoun Happiness Project group member sitting there, and closed my eyes. I relaxed and breathed deeply for the first time all day, marveling at the beautiful sounds I was hearing. When the student stopped playing, I remembered Rubin's advice in Chapter 6, "Make time for friends." Show gratitude to people, I recalled, is one piece of advice to make and keep friends.
So as the student walked away from the piano, I stopped him and said, "I really enjoyed listening to you play the piano." His face lit up and he said, "Thank you!" Then he explained that he had started learning piano when he was 4, and used to play very seriously. Now he just plays because it makes him happy. Hello, I thought, is that flow or what?
"Do you think I could l learn piano even though I'm not starting at age 4?" I asked. "You see, I'm reading this book called The Happiness Project, and she recommends taking play seriously. And I know that to increase my happiness, I have to find more ways to flow than just working. I worked so hard today and my mind was racing to and fro. So when I heard your beautiful music, I realized I need to slow down and enjoy something beautiful today."
The student, named Kevin, was fascinated by all my talk about happiness and flow, and totally encouraged me to learn the piano. "It's the master instrument," he said. "It's like a spiritual experience when I play." Kevin also was fascinated to hear about my research, especially the idea that there are certain parts of happiness we can't get without suffering. "Oh…I had never thought of that. Can you say more?" he said. I briefly told him how I've been interviewing young adults who have had stressful life events, and how some of them have developed incredible compassion and generosity as a result of their hardships. Kevin and I only talked for about 7 minutes, but I felt like I had made a new friend, in part because we talked about things we are passionate about: happiness and music.
Friendship, I told the students later on that evening, is not only about spending time together, it's also about sharing passions, and pursuing excellence in some activity. No, it's not about being perfect in everything or winning everything. But friendships are based on shared activities that are conducive to flow. Try it out. This weekend, instead of going to a night club with your friends, go to a live classical music concert. Try to learn about the artists and the music before you go.
As I'm learning through my students, happiness resources and happiness groups are growing in number at Yale. I expect to learn more this weekend after a meeting hosted by the Yale College Council to discuss mental health at Yale. How can the happiness resources at Yale unite? What more can be done?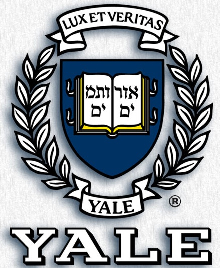 My sense is that the Calhoun Happiness Project is unique because it is integrated with one of Yale's strengths: the residential college system. Students in the Calhoun Happiness Project see each other in the courtyard and dining hall, and continue talking about the book and their own happiness resolutions. I provide the intellectual content through monthly meetings, and since I live in Calhoun College, I'm available to talk with students one-on-one. The informal mentoring, coupled with a light responsibility to read about happiness and make resolutions, seems to be the right dose students need to make changes. It's a light commitment with fellowship, mentoring, learning, and a quick payoff.
The first lesson to learn about happiness is that is starts right now, right where you are. So think about your own living situation, your own work situation. Flow is not only about playing or listening to beautiful music, if we practice flow, we can have it all day long even doing menial tasks. Try listening to what is going on around you, showing charity to everyone you meet. That's step one to getting more flow: fighting the hustle and bustle and living inner contemplation even in the midst of outward activity.
Thanks to you Yalies who keep me in the flow, encouraging me to re-read my favorite books from positive psychology and make new resolutions. Yesterday I flowed first in my intense solitary writing, and then in my deep interactions with Yale students. I went off to bed tired but contemplating the heavens and giving thanks for my friends, and woke up this morning to find my flow writing this blog from my standing desk.