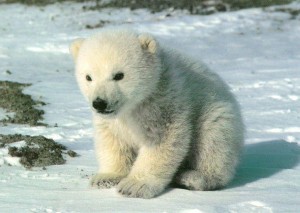 Canadian polar bears taught me an important lesson: layers keep you warm when it's freezing out. Temperatures today in New Haven went to 0 Fahrenheit, so when I finally ventured out to try to dig my car out of more than a foot of snow, I also dug out the clothes I bought in Canada during the winter of 2002. The pink fluffy gloves and hat I bought recently at Talbot's just would not do.
As I slid my legs into my Canadian snow pants, my fear turned to jubilation. Yes! Twelve-year old snow pants still fit!!! I dug past all the faux scarves and gloves I wore just to look fashionable when I lived in North Carolina. I needed the real stuff: ear muffs, a tight hat, and very well insulated muffins. Here's another thing I learned in Canada: being cold doesn't mean you can't be fashionable. Just put the fashionable clothes on top of the warm ones. To top off my polar bear outfit, I put on a fashionable Indian pashmina.
I live in a faculty apartment on campus at Yale. Lately, I've been lonely, as my dorm built for 400 people is currently inhabited by about two people. Inside my spacious and gracious apartment, I've been feeling like a princess locked in a castle. Daring to break out into the freezing temperatures to clean my car was also partially a strategy to avoid cabin fever. I promised myself that my reward for cleaning my car would be to eat dinner out at a restaurant—largely because I'm dying to see other human beings.
Furthermore, I really, really needed my car to be ready so I could hit the road to Boston early tomorrow morning. I can't miss the birthday party of my 2-year old friend and adopted nephew Carston Friedman! Especially not after he sent me the most gorgeous Christmas gift ever: adorable pajama pants and a t-shirt that says, "I love Tia Margarita." I loved his gift so much that I wore it all day today. I wouldn't dare wear it outside, however, as the big red heart and the words "Tia Margarita" stretch out over the most curvaceous part of my body. If I wore that t-shirt out, I'd have to charge money for all the stares I would get.
Walking to the lot where I park my car, which is about 15 minutes from my castle at Yale's Calhoun College, I congratulated myself for how warm I felt inside all my layers. I also psyched myself up as I marched through the snow: no matter what I found, I was going to dig that car out and I would not die of frostbite in the process! But when I entered the parking lot, my eyes bulged and my heart leapt: my car was totally clean.
I texted the owner of the parking lot:
Hey Mike. Merry Christmas and Happy New Year. Do you know who is the elf that cleaned my car? I'm driving to a 2-year old's birthday party in Boston tomorrow and he would be sad if I missed it. I came over today to clean the car and move it overnight closer to Calhoun. But it's totally clean. Please find the elf on your video camera that monitors this parking lot and thank him for me!!!!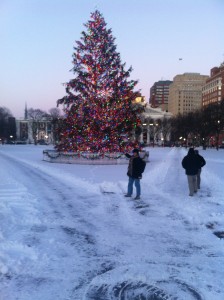 Since my car was clean, I decided to frolic in the snow by the New Haven Green. I even paused for a picture with the Christmas tree decorating the Green. Then I marched over to my favorite pizza place in New Haven, where I had pizza, drank a beer and wrote this blog.
To my chagrin, a rather perfect day ended with me losing my 2nd pair of glasses in as many weeks. The first pair disappeared somewhere at at NJ Turnpike rest stop on the way to my mom's for Christmas. Tonight, I took my spare pair of glasses off for the picture by the Christmas tree, and I thought I stuffed them in my pocket. But when I looked for them, all that was left were the two rubbery bands that sat snugly around my ears to make the glasses more comfortable.
Sigh 🙁 I may need new glasses, but at least I don't have to buy new winter clothes to survive in New Haven.