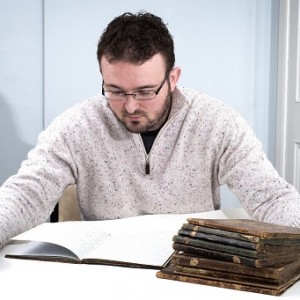 Dr. Christian George, Assistant Professor of Historical Theology and Curator of the C. H. Spurgeon Center for Biblical Preaching at Midwestern Baptist Theological Seminary, drops by today to talk about his 2011 discovery of several previously unpublished Charles Spurgeon sermons.
These lost sermons will be published as The Lost Sermons of C. H. Spurgeon by B&H Academic in 2017, along with critical commentary notes from Christian himself. He will also be speaking on the life and ministry of Spurgeon at the upcoming Southern Baptist Convention in Columbus, OH.
We also published in their entirety never-before-seen sermon notes of "The Thief's Prayer," a sermon preached by an 18-year-old Charles Spurgeon. You can see them here.
—
Brandon: When and how did you find these lost sermons?
Christian: In 2011, as I was preparing to defend my PhD thesis on Spurgeon's Christology at the University of St. Andrews in Scotland, I came across a stack of notebooks at Spurgeon's College in London that contained sermons written by Charles Spurgeon from his teenage ministry in Cambridgeshire.
Spurgeon attempted to publish these sermons in 1857, three years after he moved to London, but the demands of his new pastorate prevented him. My initial impulse, after realizing the significance of this material for the academy and the church, was to fulfill Spurgeon's original desire and bring their publication to fruition.
In the spring of 2017, after more than a century and a half since the sermons were written, B&H Academic will publish them in a ten-volume set that includes facsimiles and transcriptions of every sermon, along with a contextual introduction and editorial annotations. The Lost Sermons of C. H. Spurgeon will add approximately 10% of material to Spurgeon's total body of literature and will constitute the first critical edition of any of his works.
Brandon: What new insights into Spurgeon's life and ministry will this book offer?
Christian: In some ways, studying the past is like solving a jigsaw puzzle. Every new piece of information provides a more complete picture of the whole. Spurgeon's earliest sermons offer a more comprehensive perspective of his life and work. They will help scholars answer questions like, whatinfluences shaped Spurgeon's earliest ministry? What mistakes did he make? How do his early sermons compare to his later ones? Did Spurgeon's theology, preaching style, or doctrinal emphases change or remain constant?
Given Spurgeon's meteoric rise in popularity, it is sometimes tempting to think that he arrived on the scene of mid-Victorian evangelicalism perfect and polished. But it is becoming clear that Spurgeon's homiletic habits evolved dynamically over the first four years of his preaching ministry. His redactions on the manuscripts themselves tell us a lot about the progression of his preaching. To really understand Spurgeon, you have to know where he came from, who he was reading, and how his sermon-craft developed. It has been so fascinating to watch the seeds that were planted in Cambridge fully blossom in his pastorate in London.
This project reveals not only a new product from the most popular preacher of his day, but a new process– an experimental exegesis that complements his uncanny and anointed abilities.
Brandon: This book will include your own critical commentary on the sermons. Why is this inclusion significant and unique?
Christian: A project like this demands textual analysis. Spurgeon wrote these sermons to assist him in the pulpit, not to be read by the public. Had he succeeded in publishing them, as he did with his later sermon outlines, Spurgeon would have edited them for his readership. In their present form, however, his sermons are raw and messy. His phrases are erratic, inconsistent, and in places hardly legible. His punctuation provides visual cues more than grammatical aids. For these reasons, the text demands a docent – someone to offer explanation and interpretation.
This project also demands contextualization. Context is crucial to reconstructing the setting in which Spurgeon penned and preached these sermons.
The great problem of studying the past is that you and I are tethered to the present. In 21st-century America, we are separated from Spurgeon by two intimidating barriers: chronology and geography. To scale them, the historian must live in two worlds. He must live in the world he knows and he must live in the world he wants to know. That is why, for the past four years, I have kept up to date not only with the current events of our time, but also with the current events of Spurgeon's time. It is not enough to hold the Bible in one hand and a newspaper in the other. This project demands a Bible in one hand and two newspapers in the other – one from the past and one from the present.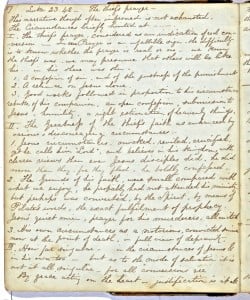 Brandon: What is the greatest challenge of this publication?
Christian: For me, the greatest challenge of this publication is becoming invisible. It takes a lot of people a lot of time and a lot of work to transmit the thoughts of a Victorian teenager into the mind of a 21st-century citizen. And yet, the ultimate goal of this project is to erase the middleman so that God can bring two individuals from two different cultures into sacred conversation. Once we get out of the way, I believe Spurgeon's sermons will travel seamlessly across a century and an ocean into the heads and hearts of their new audience.
Brandon: What is one thing about Spurgeon's life and ministry that you think people overlook?
Christian: I think it can be easy to make a superhero out of Charles Spurgeon. In many ways, he does appear bulletproof. If progress was the Victorian's greatest virtue, Spurgeon was as virtuous as they came. In his early twenties, he had become pastor of the largest Protestant congregation in the world. His voice reached crowds of three thousand and twenty-three thousand. His church had baptized almost 15,000 members, maintained a weekly attendance of 6,000 people, and spawned 66 parachurch ministries, including two orphanages, a book fund, a retirement home, and a theological college. Every week, Spurgeon wrote nearly 500 letters, digested six meaty books, preached up to 10 times, and constantly switched hats among pastor, president, editor, author, and evangelist. By 1892, Spurgeon had published more words in the English language than any other Christian in history. Without the aid of television, radio, or the Internet, Spurgeon proclaimed the gospel of Jesus Christ to an estimated 10 million people in his lifetime. It is small wonder that, according to Carl F. H. Henry, Charles Spurgeon is "one of evangelical Christianity's immortals."
But Spurgeon also bled like the rest of us. His mortality was always on his mind. Spurgeon suffered long periods of physical and mental illness. One psychiatrist has noted that if he lived today, Spurgeon would be diagnosed with bipolar disorder and treated with medicine. He was constantly plagued by disease on the one hand and depression on the other, always oscillating between gout and doubt. At the age of twenty-two, Spurgeon almost quit the ministry. Eight years later, his wife, Susannah, suffered a botched surgery that rendered her infertile for the rest of her life. At the end of his life, many of Spurgeon's students, deacons, and even his own brother turned their backs on him.
Spurgeon was no stranger to suffering, and I think this is what made him connect so directly to his audience. He appealed to the common working class because he suffered as one of them. He could incarnate the gospel because he himself was human. Spurgeon once said, "If there is anything in this world for which I would bless [God] more than for anything else, it is for pain and affliction. … Fear not the storm. It brings healing in its wings, and when Jesus is with you in the vessel, the tempest only hastens the ship to its desired haven."
Spurgeon is often subject to hero-worship. But I hope this publication will break from the usual hagiography which deteriorates Spurgeon scholarship, and instead paint a three-dimensional portrait of the preacher whose warts reveal as much about his profile as his dimples.
Brandon: If someone is interested in reading Spurgeon for the first time, where would suggest they start?
For a bite-sized introduction, I recommend his daily devotional, Morning & Evening, which has been converted into a free app that can be downloaded. For a deeper read, I would point to Spurgeon's four-volume and also his books The Soul Winner, Lectures to My Students, and All of Grace. In his 63 volumes of digitized sermons, my favorite is "The Dying Thief in a New Light," though his most famous sermon during his lifetime was "Baptismal Regeneration," preached on June 5, 1864. First-time readers often tell me that when they read Spurgeon, they feel that he is speaking directly to them. I think this is one reason that he loses little over time.
I would also recommend that you visit The Spurgeon Center at Midwestern Baptist Theological Seminary in Kansas City. In 2006, Midwestern purchased Spurgeon's personal library of approximately 6,000 books. We are currently in the final stages of renovating a center on our campus where visitors and scholars can come and learn more about Spurgeon.
Brandon: As an historian, why do you think studying the past is so important?
Christian: Mine is a generation of amplifiers, not antennas. The constant broadcasting of our lives through social media can have a deteriorating effect on that part of our soul that needs to listen, contemplate, and be.
I've always encouraged my students to fall in love with a dead theologian – to listen to what he or she has to say. Dead people are anything but silent, and I believe it is so important to give the past the opportunity to instruct the present about how to proceed into the future.
Younger generations are primed for Spurgeon. Has there ever been a preacher in the history of Christendom more capable of speaking the language of millennials? Spurgeon is the kind of communicator who does not need 140 characters to get the gospel across. His sentences are pithy and punchy – as tweetable as they are true. And I think this is one reason why Spurgeon is making a dramatic comeback in our time.
Brandon: Do you have any final thoughts about this project that you'd like to share?
Christian: Charles Spurgeon died in 1892, but God is not done with his Victorian preacher. Like Abel, Spurgeon "still speaks, even though he is dead" (Hebrews 11:4). I believe future generations will discover in him one of the greatest amplifiers of God's glory and one of the most encouraging edifiers of God's people.
I also pray that this publication will have a unifying effect on our Southern Baptist convention, on the broader evangelical tradition, and on anyone and everyone who rallies beneath the banner-cry of the gospel that Spurgeon championed. Wherever I go, I am always met by those who claim Spurgeon, regardless of their theological stripe or tribe. I believe this project can remind us that our enemies are bigger than our differences.
Spurgeon once said, "I would fling my shadow through eternal ages if I could." Indeed, his life and legacy have spilled deeply into our own age. But my passion, and the ultimate ambition of this publication, is to help readers look, not just to Spurgeon but through Spurgeon so they can get a better glimpse, as it were, of the Son that caused the shadow.