One of the joys of living here in Alaska is going to my parents' cabin in the middle of undeveloped land near a beautiful lake. In fact, we can only get there by floatplane, snow machine or four-wheeler… and when we get there, it's total peace.
Recently, we made the visit I thought I'd give you a little peek.
The first is a photo of Tripp with my dad on the snow machine. Tripp loves to ride around in the snow, and he's definitely learning from the best. (Dad is a four-time champion of the Iron Dog, the world's longest snow machine race!)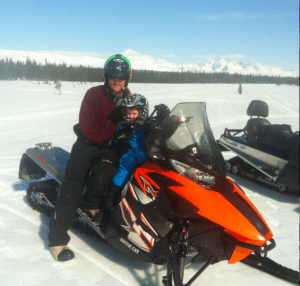 The second is from the same scene, but you can see yours truly in the background. Also, see those mountains? That's Mount McKinley, North America's highest peak with a height of 20,320 feet. I live in the most beautiful state in America!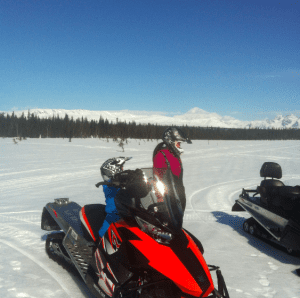 And the last photo is pretty self-explanatory. After a long day in the snow, there's nothing I love more than cuddling with Tripp!