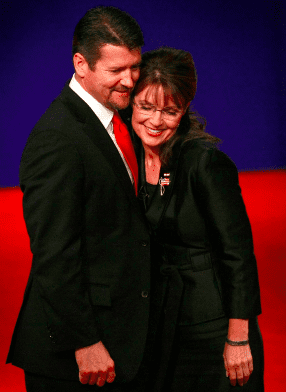 I hope all the dads out there had a great Father's Day. Here's a snippet I wrote in Not Afraid of Life that nicely describes how awesome my dad is.
We didn't love snowmachines just because they're fun. We also loved them because we wanted to be like Dad, who was a real enthusiast! We'd do anything to spend time with him, even if it meant asking him for help in getting us ready for school. In fact, he learned how to do all of our hair while Mom was busy with city council politics. I remember very distinctively that he put my hair up in three cute little ponytails on the first day of preschool . Dad didn't really know it looked kind of silly, but he had done it simply because that's what I wanted. When my mom picked me up and saw those three ponytails—one on the right side of my head, one on the left, and one in the back—she just laughed.

Not only was it fun to see him look through our closets, shirt by shirt, he let us wear whatever we wanted … including hats. I loved to wear them, but not the cute kind that some parents put on their children for nice photos. No, I wore cowgirl hats, French berets, and ball caps to school. Though I looked absolutely ridiculous, Dad didn't care. He also let me go to preschool wearing a flower girl dress I'd worn in my aunt and uncle's wedding. Sounds cute until you realize I wore it with tights and my Nike Air Force 1's.
Dad, not only can you braid Piper's hair, you can also win the Iron Dog.
You are truly an amazing man, a loving father, and a hard-working man. I can't tell you how much I love you!