Some of my long term Facebook friends are worried I'm going to forget them now that my blog is on Twitter. Not at all!
In fact, I wanted to share this nice Tweet with my Facebook fans who are not on Twitter and will not ever be on Twitter – even for me!
Remember when I wrote about the nice words Louis Van Amstel had about me?
Well, @BristolsBlog tweeted that you don't have to agree on political issues to be friends and he wrote back this nice tweet!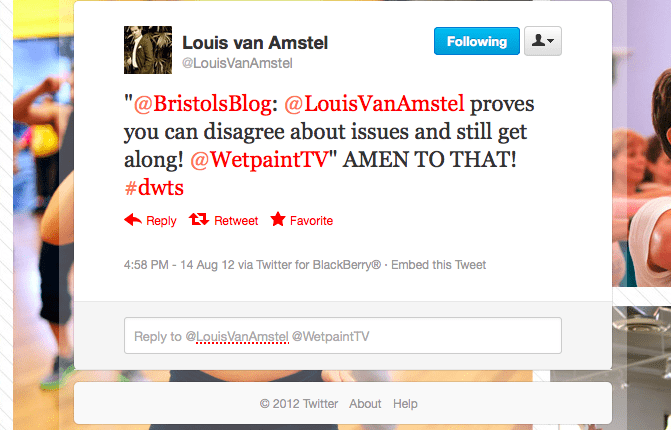 (I'm posting here for you non-Twitter fans! If you change your mind, you know where I am!)
Do you want to be a part of my DWTS journey? Then, e-mail me so I can add you to my mailing list. (My address is BristolsBlog @ gmail.com, without the space! Make sure to use the subject line: DWTS.) I'd love to give you the latest up-to-the-minute reports about the show!
Also, follow me on Facebook and this blog on Twitter!