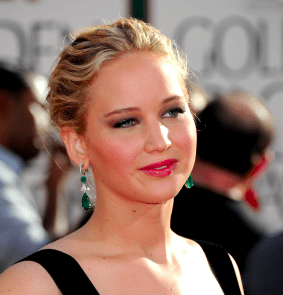 Okay, I know I was on a show called "Dancing with the Stars," but I know I'm not – and will never be – a "celebrity."  Hunger Games star Jennifer Lawrence really is a star, and she had some interesting things to say about how celebrities shouldn't be viewed as idols.  In a recent interview with Vanity Fair, she said:
"Not to sound rude, but [acting] is stupid. Everybody's like, 'How can you remain with a level head?' And I'm like, 'Why would I ever get cocky? I'm not saving anybody's life. There are doctors who save lives and firemen who run into burning buildings. I'm making movies. It's stupid."
Isn't that cool?  Many celebrities take themselves so seriously.  People idolize them simply because they're on a screen.  We should recognize who the true heroes in our society are — including our soldiers who risk their lives on the battlefield, first responders who daily confront emergencies, teachers who invest in the next generation, and moms who tirelessly raise their kids.
I loved The Hunger Games, and I loved what Jennifer Lawrence had to say about celebrities.  Plus, in the interview, she says she has her own bow and arrow and used it to protect herself from suspected home invaders in the past!
Read her interview here.
Read more on the Faith and Family Channel, follow me on Facebook and this blog on Twitter!