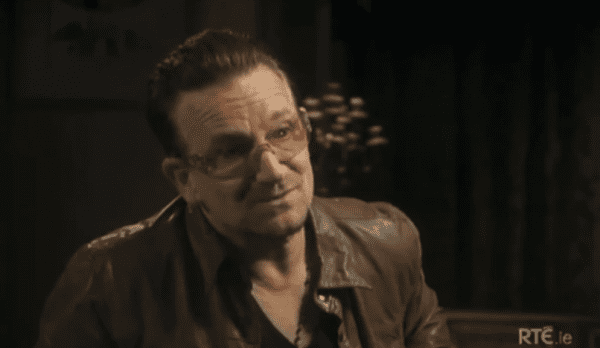 Bono is known to be a very private person in his interviews. So it was surprising when he agreed to do a personal interview on the RTÉ One show. The host asked him some questions about his family, his dad, even his taxes, but what most interested me was what he said about his faith.
Interviewer Gay Byrne asked the U2 star about how he prays, who he prays to, and what he prays for. And he asked him what he thought of Jesus. Bono was not ashamed, and his answers are super refreshing:
It's a defining question for Christian. Who was Christ? And I don't think you're let off easily by saying he was a great thinker or great philosopher. Because, actually, he went around saying he was the Messiah. That's why he was crucified. He was crucified because he said he was the Son of God.

So, he either, in my view, was the Son of God or he was nuts. Forget rock-and-roll messianic complexes. I mean Charlie Manson-type delirium. And I find it hard to accept that all the millions and millions of lives, half the Earth, for 2,000 years have been touched, have felt their lives touched and inspired by some nutter. I just don't believe it.
Bono answered simply and directly: He believes Jesus is divine.
He believes Jesus rose from the dead physically.
He believes Jesus made promises that He's going to keep.
We have enough people trying to rewrite who Jesus really was. It's awesome to hear a public figure talking so plainly about the Jesus of the Bible!
Read more on the Patheos Faith and Family Channel, fan me on Facebook and follow this blog on Twitter!