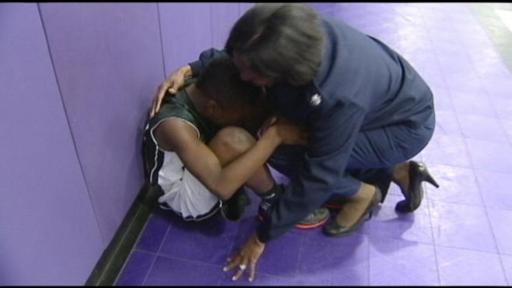 This is so sweet!!!! Happy moments like this one make me really appreciate our men and women in uniform…  and their families:
Thirteen-year-old Derrick Jenkins got the surprise of his life at his middle school basketball game. Thinking he was performing a routine free throw shot, Jenkins had no idea his mother, Lt. Col. Cotina Jenkins-Sellers, was standing right behind him.

"I told my husband that I wanted to surprise Derrick and he said we would do it at a basketball game," Jenkins-Sellers said. "He thought I was coming home February 1. We've been planning it for about a month and a half."
 … In the video, Jenkins misses his free throws, and his mother, silently standing behind him, says to him, "That's alright, Derrick." 
Watch his very emotional — and sweet — response here.
Read more on the Patheos Faith and Family Channel, fan me on Facebook and follow this blog on Twitter!
Can you imagine the shock?