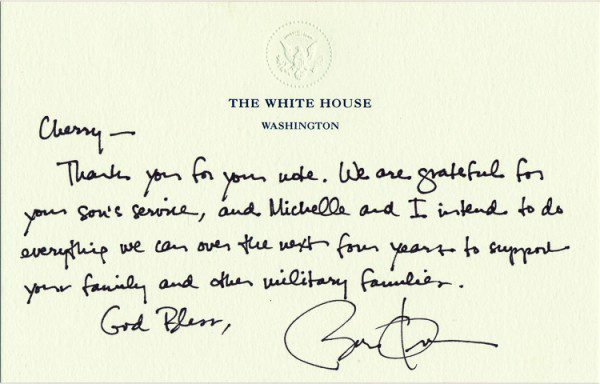 In a last ditch effort to cover her son's medical bills, Cherry McKimmey is selling her rare, handwritten letter from President Obama. Her son is an Army veteran of the Iraq war, struggling to recover from his injuries. As the single father of three children, disability benefits are not enough to cover his medical needs. 
In a stroke of irony, his mother decided to sell the very letter that promised provision for her family. Not surprisingly, there was nothing but air in the president's words:
Cherry – Thank your for your note. We are grateful for your son's service, and Michelle and I intend to do everything we can over the next four years to support your family and other military families. God Bless, Barack Obama
According to the Washington Examiner, David McKimmey was "categorized as a vet with minor injuries, robbing him of special care." Choosing to fight for her son, Mrs. McKimmey had previously written to President Obama. His response, although kind, was not what she needed.
She received the note from Obama in July 2009 after a non-stop effort to beg federal officials to help her son, David McKimmey.

McKimmey was campaigning for the the Veterans Administration to do more to help him recover from injuries for which he received the Bronze Star with Valor for crawling back into a truck fire to save two soldiers who eventually died. He suffered burns to his face and hands, and is still likely to lose his leg.
The Washington Examiner spoke with Mrs. McKimmey about her disappointment in a telephone interview:
We just assumed everything would be taken care of. We should have known better.
Sadly, this is the trend of the past eight years. Services for veterans and their families have broken down. Obama has kept very few of his promises to veterans, and families who served our country are struggling to make ends meet. The McKinney family should not need to worry.
This breaks my heart. For their sake, I hope the letter sells for everything they need.
Buy my Mom's new devotional, Sweet Freedom, in bookstores everywhere!
Read more on the Patheos Faith and Family Channel, fan me onFacebook, follow me on Instagram and follow this blog on Twitter!