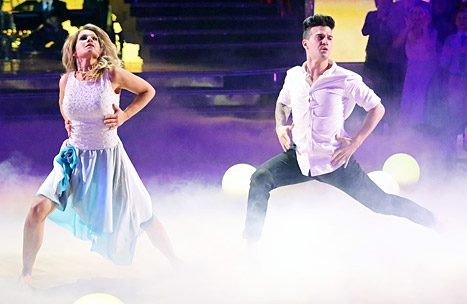 I had so much fun seeing the debut of Dancing with the Stars this season!  As always, I'm pulling for my favorite, Mark Ballas!  But I also love his partner Candace Cameron Bure and the stance she is taking about modesty:
Mom first, dancer second. Candace Cameron Bure won't be wearing skimpy costumes while competing on Dancing With the Stars. The Full House alum made her dancing debut on the premiere of Season 18 on Monday, March 17, and told reporters that she plans to wear modest costumes on the ABC show. See DWTS' rehearsal pics here.

"The two most important things in my life are my faith and my family and I know that is what is going to get me through this competition," Bure, a devout Christian, told partner Mark Ballas in a video clip from their rehearsals. "I'm not gonna be your sexy girl, I'm a mom of three kids so I want to look good and feel beautiful, but I will probably stay on the more modest end of costuming."

Bure, 37, has three children — daughter Natasha, 15, and sons Lev, 14, and Maksim, 12 — with her husband, Russian NHL hockey player Valerie Bure. The former child star told Us Weekly after the show Monday that her costumes will be a "happy medium" between sexy and modest.

"I won't be the sexiest one out there," she told Us. "I am a mom and I want to be a good role model for my children and my husband. But I think for each dance we'll wear what reflects the dance but in the most classy way possible."

Bure also hopes that her appearance on DWTS will motivate other moms. "I want to represent all the moms out there and inspire them and encourage them," she explained. "I'm just a woman, I'm not any different than all the moms out there — my priority is my family, my husband, my kids and so this for me is truly just a joy.

It's something I've never done and to get the opportunity to do this is fantastic. I'm just going to enjoy every moment. We're working hard of course, but I'm thrilled to just be able to work hard and do this."
Go, Candace and Mark!
Read more on the Patheos Faith and Family Channel, fan me on Facebook and follow this blog on Twitter!