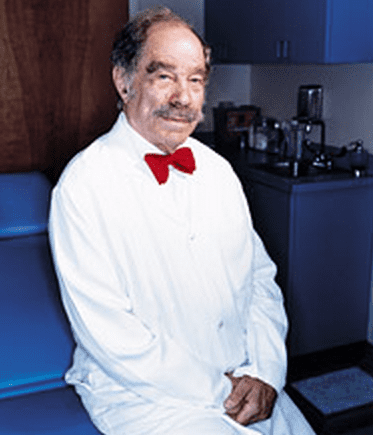 I found this Mother Jones interview with an abortionist who performed the late term abortions on women ever since it became legal after Roe v. Wade.  William Rashbaum has passed away since this interview, but I think it offers an interesting view into the life of a man who aborted over 20,000 babies.
Even though the article is written from a liberal perspective, the harrowing details of his life and occupation come shining through.  Here are the most disgusting parts of the piece that give insight:
The abortions he performed were harrowing from anyone' s perspective:
First- and second-year OB/GYN residents dread his cases. "It was always a fight about who had to do them," says a former intern. Cases such as his are certainly the most technically difficult of all abortions. As pregnancy moves closer to 24 weeks (the upper legal limit in most states, with rare exceptions made to preserve a woman's life or health), the risk to the patient increases, even with the preferred method for second-trimester abortions — dilation and evacuation, or D&E for short. During the procedure, in which both vacuum and surgical instruments are used, the fetus is either removed in pieces or delivered more or less intact.
Of course, the fact that they were difficult was not what caused people to pause.  Rather, other doctors hated to perform these late term abortions since the babies looked "more like babies."
The procedure is gruesome, as anyone who has seen it, including Rashbaum, will attest. One of his former interns remembers watching Rashbaum do a D&E on well-developed twins one hot summer day. He intently leaned in closely and methodically pulled piece after piece of the fetuses out of the mother's uterus, ignoring the attending staff's whispers of horror — "It's twins. It's twins" — to each other. The intern reacted violently, running home, throwing up, and asking herself, "Is this right?"
The abortionist didn't have much for fathers who didn't want their children murdered:
Husbands or boyfriends have been known to barge into his office and violently insist their baby not be aborted, to which Rashbaum replies with an equally violent, "Fuck you, Charlie, we can abort her."
Why did he get into the abortion business?  Money:
Before abortion became legal, Rashbaum remembers basement practitioners, with "one eye on the patient and one eye on the door," who grew so rich from under-the-table procedures that they didn't know what to do with all their cash. (One doctor took to buying racehorses.) When New York became the first state to legalize abortion in 1970, it coincided with Rashbaum's split from his first wife, with whom he had two children, a son, now 43, and a daughter, now 45. With the mounting divorce costs, including many therapy bills, Rashbaum began performing abortions in New York City, which had quickly become the abortion capital of the country. The clinic where he worked was open round the clock, with three sets of doctors and nurses each taking eight-hour shifts. He says, "You would go home with a goddamn barrel of money."
This is the part that stuck out to me:
And although Rashbaum felt he was performing a necessary service, it weighed heavily on his conscience. He was troubled by a recurring dream of a fetus trying to hold onto the walls of a uterus by its tiny fingernails.
What a terrible way to spend a life — ending it for over twenty thousand people who never had "a choice" to live.  I think it's interesting that even the most pro-abortion person was haunted by what he did.
Read more on the Patheos Faith and Family Channel, fan me on Facebook and follow this blog on Twitter!