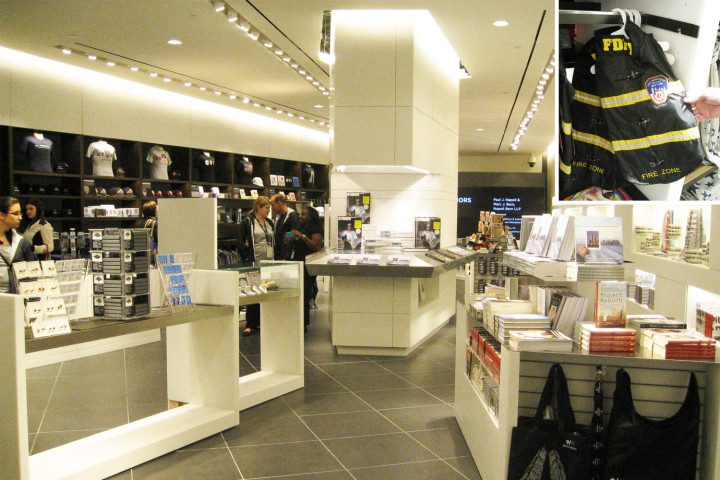 In New York, the 9/11 museum offers a place to reflect on the horrors that happened there.  The New York Post reports that the gift shop has been offending survivors and their families:
The 9/11 museum's cavernous boutique offers a vast array of souvenir goods. For example: FDNY, NYPD and Port Authority Police T-shirts ($22) and caps ($19.95); earrings molded from leaves and blossoms of downtown trees ($20 to $68); cop and firefighter charms by Pandora and other jewelers ($65); "United We Stand" blankets.

There are bracelets, bowls, buttons, mugs, mousepads, magnets, key chains, flags, pins, stuffed animals, toy firetrucks, cellphone cases, tote bags, books and DVDs.

You can pick up an assortment of oak leaf jewelry at the 9/11 museum gift shop.Photo: Sue Edelman

Even FDNY vests for dogs come in all sizes.

After paying $24 admission for adults, $18 for seniors and students, and $15 for kids 7 to 17, visitors can shop till they drop.

"To me, it's the crassest, most insensitive thing to have a commercial enterprise at the place where my son died," Diane Horning said.

She and husband Kurt never recovered the remains of their son Matthew, 26, a database administrator for Marsh & McLennan and aspiring guitarist.

About 8,000 unidentified body parts are now stored out of sight in a "remains repository" at the museum's underground home.

"Here is essentially our tomb of the unknown. To sell baubles I find quite shocking and repugnant," said Horning, who also objects to the museum cafe.

"I think it's a money-making venture to support inflated salaries, and they're willing to do it over my son's dead body."
I can't imagine how hard this is for the families of the victims.  But I have to guess seeing dog vests sold as 9/11 memorabilia has got to make their pain so much worse.
Read more on the Faith and Family Channel, fan me on Facebook and follow this blog on Twitter!