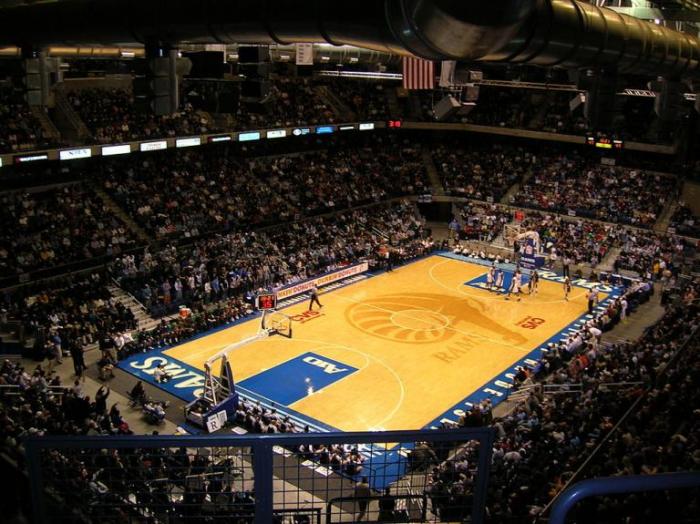 Kevin Scholla over at Breitbart has a sweet article — for a change — about sports, patriotism, and kindness.  When the Rhode Island Reds were about to tip off against La Salle, both sets of players lined up for the traditional playing of the National Anthem.  However, they sensed something was wrong.  The music was playing, but no one was singing.  Scholla writes:
A little girl stood on the court, holding a microphone ready to belt out the Star Spangled Banner. As the crowd stood, anticipating the start of the song however, there was only silence. At first it appeared that maybe no one gave the child the go ahead yet. Perhaps, the mic wasn't on. Then the realization hit. She had stage fright. She was frozen. About a minute went by, but it seemed so much longer. Finally, La Salle played an instrumental version of the anthem and the girl remained on the court until the music ended. La Salle's public address announcer thanked the girl for giving it a try and invited her back to try again. It was handled nicely. The girl was a trooper. She held in the tears. No small feat for a young kid in such a situation.
Poor baby!  I can't imagine who scary that must have been — to be standing out on a court with everyone watching!  But Scholla points out that the teams were very kind to the girl.
What was particularly striking was the response Rhode Island had to the performance that never happened. After the anthem recording ended, virtually every Rhode Island player went over to the girl and offered a kind word, a hug, or a fist bump. The Rams had a big game about to start, yet they still were able to take the time to reach out to a child. They took a moment to show some human kindness. These guys know a thing or two about performing in front of large crowds. They understood.
That is so sweet.  I hope she can look back on that moment and feel that kindness.  As Scholla wrote, "In the era of Kaepernick and the NFL kneelers, it was refreshing to watch a positive story unfold regarding our flag. The way the players showed compassion toward a young child is what being united should be all about."
Image Credit: By Tnricci (Own work) [CC BY-SA 3.0 (https://creativecommons.org/licenses/by-sa/3.0)], via Wikimedia Commons
Hat Tip: Kevin Scholla at Breitbart