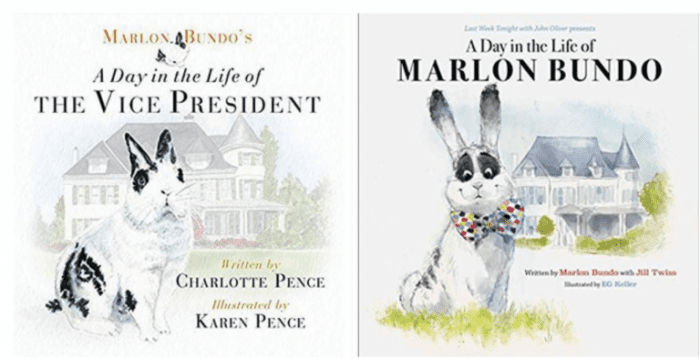 There are two dueling children's books out right now.  Here's one:
Marlon Bundo's Day in the Life of the Vice President
… written by Charlotte Pence, the daughter of Vice President Mike Pence.  She wrote this book to talk about a "day in the life of the Vice President."  The book is described:

From the moment he hopped into the home of America's "Second Family," black-and-white bunny rabbit Marlon Bundo captured the hearts of Vice President Mike Pence, his wife Karen, and his children Michael, Charlotte, and Audrey. But little Marlon Bundo isn't just a family pet: like Peter Rabbit and Bugs Bunny before him, Marlon—or BOTUS (Bunny of the United States)—is a national celebrity! With his appearances at official White House events, his rides on Air Force 2, and his popular Instagram account, Marlon Bundo has become a beloved member of the Trump-Pence administration.

So how does a bunny experience a day in the life of the Vice President? Now young readers can follow Marlon Bundo along as he hops after "Grampa" (Vice President Mike Pence) in this delightful story penned by Charlotte Pence and illustrated faithfully with watercolors from the "Second Lady" herself, Karen Pence.
And the best thing?  The proceeds of the book go to charity.
On the other side of the fence, John Oliver, the late night comedian, published his own version of the book — in which the bunny rabbit is gay and gets married.  Because, you know, he can't just be nice about a charitable book.  Instead, he took the opportunity to troll the Vice President over what he thinks is Pence's bigoted positions on same sex marriage.
Oliver's parody book has already sold out — and yes, the proceeds of this book go to charity as well.  In fact, it was #1 on Amazon recently.  CNN reports:
The proceeds of Oliver's book will be donated to The Trevor Project and AIDS United, while the Pences will donate a portion their proceeds to A21, a nonprofit focused on combating human trafficking, and an art therapy program at Riley Hospital for Children.
The Pences' reaction, again, was kind and compassionate. The New York Times reports:
Charlotte Pence seemed to take the John Oliver parody in stride. "His book is contributing to charities that I think we can all get behind," she said in an interview with Fox Business Network on Tuesday. "We have two books giving to charities that are about bunnies, so I'm all for it really."
Watch Oliver on Ellen DeGeneres below:
Hat Tip: New York Times
Buy the Pence book below:
Hat Tip: CNN