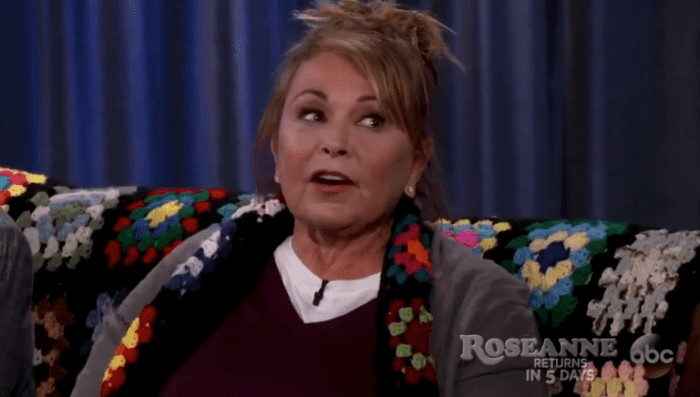 Well, this was interesting. Roseanne Barr — the comedienne who is reviving her old show — was on Jimmy Kimmel's show, when he made things political.  (Why does he have to make everything political these days?)  Kimmel is famous for saying that late night show hosts are "liberal" because the job requires "a measure of intelligence."
Um…  Okay. The Washington Times explains this very rude statement:
Mr. Kimmel, a frequent President Trump critic who has spoken out on a number of issues ranging from health care to gun control, said he decided to get into political comedy and advocacy due to a "real serious concern for the future of this country."

He said political comedy can be dangerous because hosts risk alienating half of their audience, but it's more important to be honest with viewers than to be universally funny.
But recently, the tables were turned when Kimmel began questioning Barr.
"I know you are a very political, socially liberal person in general," he began while interviewing Barr on his show.
"I'm still the same," she said.  "You all moved."
Kimmel laughed.  "You're probably right, by the way."
"You all went so f***ing far out, you lost everybody… A lot of your audience — including me — no matter who we voted for, don't want to see our President fail."
Boom!  The audience went wild in studio, and you know that many Americans watching at home were thrilled that finally someone said what they were thinking.
"I know," he said.  "And yet we've seen him fail over and over again."
Then, Roseanne — who actually ran for President in 2012 on the Peace and Freedom Party ticket with Cindy Sheehan as her running mate — asked Kimmel if he wanted to have Mike Pence as President.  The universal feeling on stage was that this was not acceptable.  (Though, I think Pence would be a great President.)
"No, I don't," said Kimmel.
"Then zip that f***ing lip," Roseanne quipped.
Actually, that was pretty nice to see!  Watch the clip below:
Jimmy Kimmel is slammed by @therealroseanne… on his own show.

"You all went so f***ing far out, you lost everybody… A lot of us, no matter who we voted for, don't want to see our President fail." pic.twitter.com/bjHwNpocgP

— Kyle Morris (@RealKyleMorris) March 24, 2018
Image Credit: Screen Cap
Hat Tip: The Washington Times and Twitter