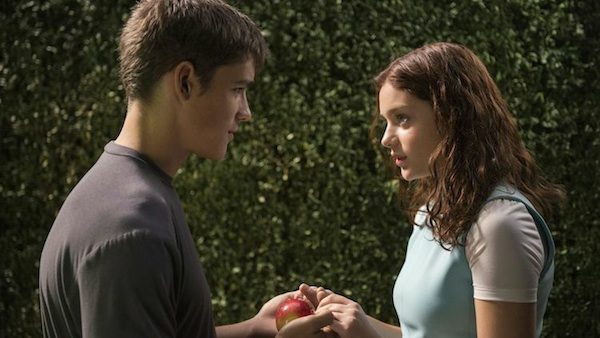 Welcome to my first ever book club! We're reading "The Giver" by Lois Lowry together, in preparation for the August 15th movie based on the book!
Thank you for your childhood.
That's the chilling phrase the Chief Elder says after each 12-yr-old is given their job assignment at the ceremonies.
However, in the previous section, we saw Jonas really lose his childhood when he saw the vision of war.
Shocked and scared, he's hesitant to go back to The Giver. Reluctantly, he goes back because he knows it's his destiny. The Giver gives him a little reprieve – happy memories, birthday parties, horses running through damp grass, a museum full of colorful paintings. One day, he feels something he's never felt: "love."
"Do you love me?" he asks his parents.
Their response indicates that they don't. In fact, they don't even know what love is.
Lonely, filled with regret and loss, Jonas refuses to take his morning injections. When he learns that identical twins are going to be born the next day.
This brings up the topic of "release" – something I want to talk more about separately. But in these chapters, we learn about Rosemary and how she was "released to elsewhere" after being filled with despair over her training. We learn that if Jonas fell into the river and was lost that memories would be pushed back onto the community.
An idea is born.
Jonas is shocked to learn he can see the release of one of the twins the next day.
This is when he learns the truth about "release" – and his dad's role in it.
Release, of course, means death. (It gives the "thank you for your childhood" sentence a lot more horrible meaning.)
Overcome with fear and horror at this own father, the Giver explains, "It's what he was told to do, and he knows nothing else."
Jonas will never be the same again.
Things must change.
The Giver and Jonas decide to hatch a plan to give the memories back to the community… this means Jonas must risk his own life, but it's a chance he's willing to take.
Read more on the Faith and Family Channel, fan me on Facebook and follow this blog on Twitter!