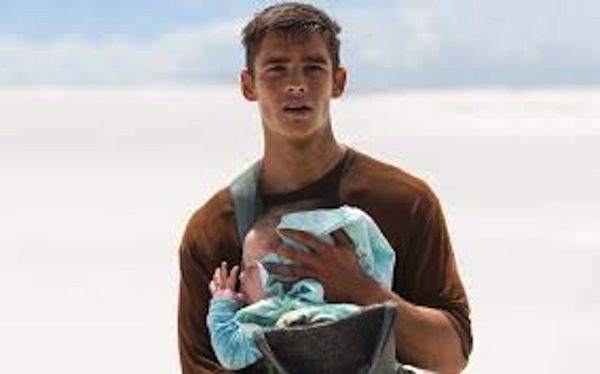 Welcome to my first ever book club! We're reading "The Giver" by Lois Lowry together, in preparation for the August 15th movie based on the book!
If you missed it:
"It's bye-bye to you, Gabe, in the morning," sang Jonas's dad.
When Jonas realizes that Gabe is going to be released, he knows it's time to orchestrate their plan. He loves that child and is not about to sit idly by and let his father kill him.
He sneaks out of the house, steals his dad's bike, and heads out. Sometimes doing the right thing means breaking the rules, he thinks.
As Jonas and Gabe begin making their journey to "beyond," things get real. It's hard to survive in the elements – I think all moms were thinking, "You're taking a baby out into that? Is your diaper bag filled with everything you need?"
Of course, that's the point. They have everything they need: freedom.
Through many trials, he and Gabe make it to a snowy hill, on which a sled sits. When he gets on it and slides down the hill, he comes upon a house. (A home!) that has what he hears – for the first time – is "music."
At the end of the book, I was confused. Here's what Cliff's Notes has to say about the ambiguous ending:
But what happens to Jonas and Gabe? Do they die? Is Jonas really dreaming? Do Jonas and Gabe actually reach a house with colored lights? Are Jonas and Gabe back in their community? Have the people in the community changed because they now have Jonas' memories? Lowry leaves all of these questions unanswered. By concluding the novel so ambiguously, she allows readers the freedom to choose their own endings.
What did you guys think?
This book was amazing in many ways. I appreciate you guys going through The Giver with me, and for being guinea pigs in my first ever book club.
It's not over. Yes, we finally made it to the end of the book. However, I think we should think more about the idea of release and what it means when a community chooses convenience over life.
I think the theme of The Giver is this:
Don't be afraid to be different…Be afraid to be the same.
Read more on the Faith and Family Channel, fan me on Facebook and follow this blog on Twitter!