Have you seen this amazing story?
Atheists and civil rights leaders decided that prayers over the loudspeaker before football games at Oneida High School in Oneida, Tennessee, a tradition there since the 1930's, should be banned. It blew up in their faces in a HUGE way.

The school nixed the prayer, instead leaving a moment of silence in its place. Removing the invocation didn't sit too well with some of the cheerleaders. So, one of them, Asia Canada, broke the moment of silence by loudly reciting the Lord's Prayer.

"He called for the moment of silence and I started off, 'Our Father who art in heaven' and everyone joined in," she told a local TV station. When she said everyone, she meant EVERYONE: the cheerleaders, athletes, crowd in the stands and opposing team!

And the people who tried to put a stop to it? Stymied. Because the prayer is student led, it is 100% permissible.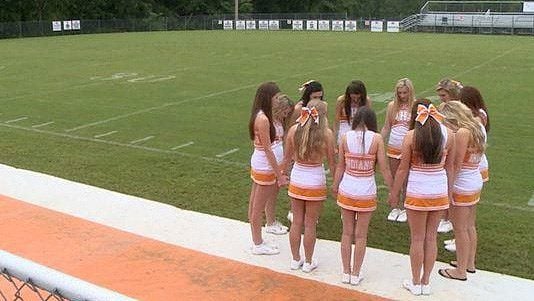 I heard that now the crowd is even more fervent in their pre-game prayers.  Not what the ACLU intended, I would guess.
I love this story because it goes to show what you can do if you don't bow to the pressure of the politically correct.
Way to go, girls!  Now, America is cheering you!
Read more on the Faith and Family Channel, fan me on Facebook and follow this blog on Twitter!