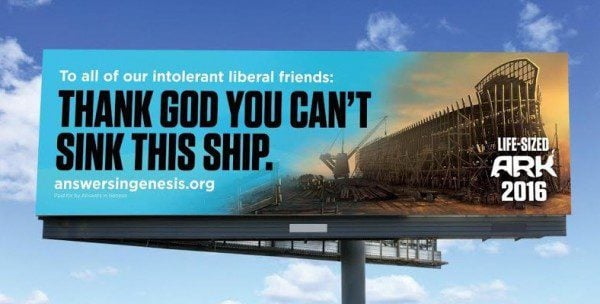 I just get so sick of hearing about the "separation of church and state." Because it usually means the state is pushing Christians around. Here's the latest example.
Answers in Genesis is building a life-sized Noah's Ark in Kentucky and a theme park to go with it. "Ark Encounter" will bring hundreds of jobs and millions of visitors to boost Kentucky's economy. The state has a program to encourage tourism that refunds sales tax to big parks like this for the first 10 years they're open. The plans for "Ark Encounter" were approved by the state in 2011 along with the tax credits.
But now, out of the blue, Kentucky officials say they've changed their mind! Answers in Genesis won't be approved for the program unless they agree to hire people who aren't Christians and unless the exhibit doesn't talk about Christianity.
You tell me — Just how is that possible at a park about Noah's Ark?? It's obviously going to be based on the Bible! And they knew it.
Four years ago, the Kentucky governor himself said how excited he was for this park. Now, all of a sudden, it's "the separation of church and state" excuse. Where was that 3 years ago?
I wonder which atheist group complained…
That's the real deal here. Some critics make a lot of noise, probably applying "political pressure," as AIG's lawyer suspects, and officials get scared and go back on their word.
Well, AIG's not taking it. They're still going to build the park, and probably will have to take this to court to get the credits they were promised. As it turns out, the reasons they're being denied aren't even in the law.
Read more on the Patheos Faith and Family Channel, fan me on Facebook and follow this blog on Twitter!