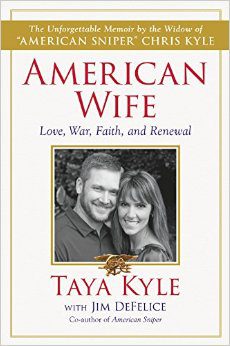 The reason we love "celebrity stories" is the look it gives us into someone else's personal life. We think certain people are in a class all by themselves, but come to realize they're actually just like us.
That's why I'm so excited that Taya Kyle's book American Wife is finally released! Not every woman is the wife of a Navy SEAL, and only one was married to the most lethal sniper in US military history – but underneath all the extraordinary details is a classic story of a man and a woman meeting, falling in love, struggling, having a family, and making it through the challenges of life.
Then Taya's story goes on alone after she loses her husband. She struggles with the normal feelings of loss, grief, anger, and worry for the future – plus the extra attention that came with her husband's celebrity status as the author of bestselling book American Sniper, and the extra grief and anger from the fact that he didn't die in battle but was murdered in their home country.
She wrote her book American Wife with the same co-author that Chris worked with on American Sniper. The wives of our military are heroes just as much as their husbands, and Taya proves this again and again.
You can read a sample here from Books-A-Million before going out to get your own copy! Just from that bit, I don't think I'd get through the whole book with dry eyes!
This is a book you do NOT want to miss.
Read more on the Patheos Faith and Family Channel, fan me on Facebook, follow me on Instagram and follow this blog on Twitter!