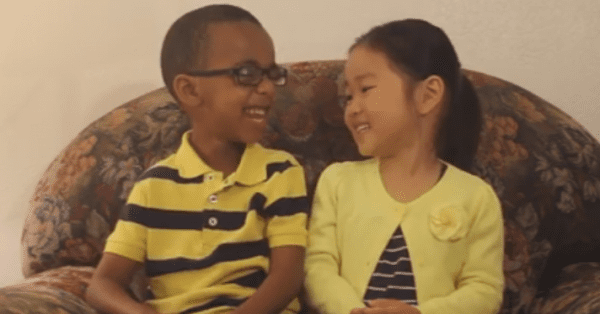 These two adorable kids really know what Father's Day is about!
Levi and Lia are brother and sister. They were both adopted from different countries, the same year. They have two loving parents in Sara and Joel Mullen. And they have a special message to share for Father's Day:
I just love it!! These kids say so simply what every person needs to hear. Whether you have a good dad, a bad dad, or no dad in your life – God is the best Heavenly Daddy anyone could ask for!
This special family is also in the middle of adopting another boy, Luca. The parents wrote,
It's difficult to express with words our deep joy and our profound sense of calling to be good parents to Levi and Lia (and soon…Luca). God graciously welcomed us into his family long ago in order that we might also graciously welcome them into ours.
There's no better way to celebrate Father's day than celebrating the love of the ultimate Father, God.
Read more on the Patheos Faith and Family Channel, fan me on Facebook, follow me on Instagram and follow this blog on Twitter!