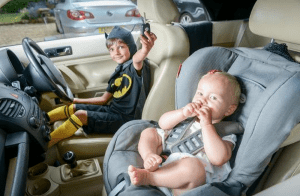 As the mom of a wild little boy, I love this story!
A five-year old little boy went to the grocery store dressed as batman.  Little did he know that he was actually about to become a hero!  
The Ahmeds sprang into action after they spotted police trying to free 1-year-old Iris Adamski, who'd been locked inside the Volkswagen Beetle while her grandmother was loading groceries into their car. Cops had smashed the rear window, but the Mirror reports that they couldn't fit inside to open the door or grab the keys from the dashboard.

Zavi "saw the unsuccessful attempt to get in the back window, and offered to squeeze through and get the keys to be able to get Iris out," says Emma, who stood close by with Nadeem, dressed conveniently in a Superman costume. "He said, 'I'm only little, I can do it.'" And "Batman" got the job done all right. After an officer put his sweater down on the window's edge to protect Zavi from the broken glass, the boy crawled in, retrieved the keys, and opened the door.
I love mom's who are raising their sons to be brave and kind!  That is definitely my constant prayer for my sweet,
Tripp
!
Read more on the Patheos Faith and Family Channel, fan me on Facebook, follow me on Instagram and follow this blog on Twitter!