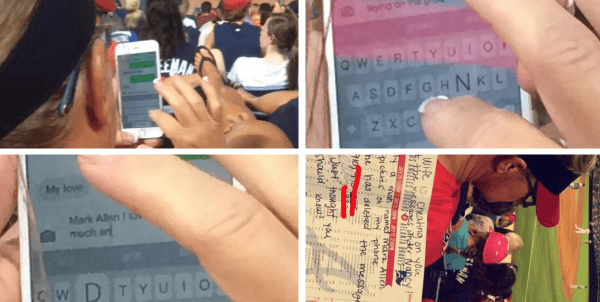 I read a crazy story this week of two sisters who exposed a wife cheating on her husband at a baseball game by reading her "sext" messages over her shoulder.
A woman who was apparently cheating on her husband was reportedly busted at a baseball game in Atlanta by a pair of eagle-eyed sisters sitting right behind her.

Last week, Delana and Brynn Hinson posted images on social media showing what appeared to be a woman sexting someone who is not her husband. The Hinson sisters say the woman's spouse had been sitting next to her at the time, watching a game between the Atlanta Braves and Los Angeles Dodgers at Turner Field.
What a tangled web some people weave! The girls claim they slipped a note to the husband after the game, warning him of his wife's affair!
What would you do if you were sitting where these girls were sitting?
Read more on the Patheos Faith and Family Channel, fan me on Facebook, follow me on Instagram and follow this blog on Twitter!