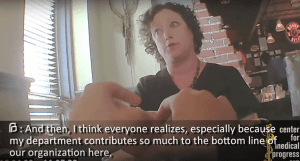 And the evidence of the evil and illegal actions of Planned Parenthood just keeps on coming!
Today the Center for Medical Progress released their 5th video.  This time they went inside one of the largest Planned Parenthood branches in the country:
The fifth undercover video in the controversy over Planned Parenthood's sale of aborted baby parts shows the Director of Research for Planned Parenthood Gulf Coast, Melissa Farrell, advertising the Texas Planned Parenthood branch's track record of fetal tissue sales, including its ability to deliver fully intact fetuses.

In the video, actors posing as representatives from a human biologics company meet with Farrell at the abortion-clinic headquarters of Planned Parenthood Gulf Coast in Houston to discuss a potential partnership to harvest fetal organs. […]

Farrell also indicates to the investigators over lunch that the specimen sales from her department contribute significantly to Planned Parenthood Gulf Coast's overall finances: "I think everyone realizes, especially because my department contributes so much to the bottom line of our organization here, you know we're one of the largest affiliates, our Research Department is the largest in the United States. Larger than any the other affiliates' combined."
And what is she talking about "contributing to the bottom line"?  Dead baby parts.  Hundreds and hundreds of them!
Just when you think it can't get worse, it does!  National Review's David French
writes
:
Beginning at roughly the 9:45 mark, the video takes a macabre turn as the undercover reporters ask if there are any "fresh specimens" to look at, and a Planned Parenthood worker bursts into laughter. Another says, "We had a really long day, and they're all mixed up together in a bag." But they do display the remains of a 20 week-old twin, picking through the lungs, intestines, and a limb.
Guys, we have to do something!  Please share this video with everyone you know and demand that these people be brought to justice!  We can't let this evil go on any longer in our country!
I am posting the full video here.  But again, warning, this one is really hard to watch:

Read more on the Patheos Faith and Family Channel, fan me on Facebook, follow me on Instagram and follow this blog on Twitter!