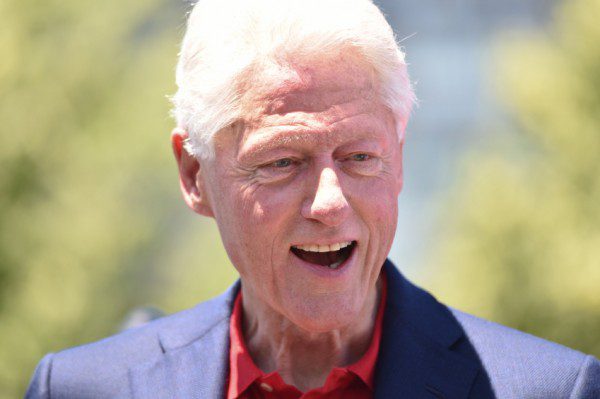 I guess Hillary didn't expect this response.
Which is weird, since she's been making fun of her husband's accusers for thirty years.  I guess she's used to not suffering any repercussions from her terrible deeds.  (The e-mail scandal is just the latest example of this.  She should be in jail, not in the Oval Office.) Anyway, this Patheos article talks about Hillary's new ad:
In a new ad called, "Hillary's Message to Survivors of Sexual Assault," Hillary Clinton speaks directly to victims of sexual assault:

I want to send a message to every survivor of sexual assault.
Don't let anyone silence your voice. You have a right to be heard. You have a right to be believed. We're with you.

First of all, is this what we want our Presidential candidates making campaign ads about?  Who's not with sexual assault victims in this day and age?

Oh wait.  My bad.

There once was a woman married to a handsy, lecherous creep who happened to be President of the United States.  He had been accused of sexual assault for three decades. The Daily Dot composed a short list of his accusers:

(Here's a more comprehensive list of the allegations over the past three decades.)  And let's not forget Monica Lewinsky.

Hillary has stood by Bill Clinton throughout every one of his ordeals.  In fact, she has disparaged his accusers. Feminist Melissa Harris-Perry is one of the few liberals who has spoken out against Hillary's handling of Bill's charges, saying she "made an appalling choice as a feminist—not that she stayed with her husband, but that she did not speak out in defense of a barely-older-than-teenage girl who was harassed by her husband … And then she used that experience to create sympathy for herself."
The article goes on to cite how she called some women who came forward against a powerful politician "whiney." And how she called one of Bill's accusers "trailer trash."  (Well played — being rude to victimized women and poor people!  Two birds with one disparaging phrase!) She even tried to justify her husband's behavior by trying to plant rumors that George H.W. Bush wasn't faithful to Barbara.
Anyway, when Hillary had the bright idea of using sexual assault victims as a political tool (again), one of the victims spoke out.  And she was pretty furious.  Kathleen Willey told The American Mirror:
"She believed what happened for sure," Willey tells The American Mirror. "She just chose to ignore the plight of all of his victims, thus enabling him to continue to abuse and rape women in the future."

Willey adds, "She's a money-hungry hypocritical witch who will do anything for money.

"She's a lying pig. I CANNOT believe that she had the gall to make that commercial. How dare she? I hope she rots in hell."
The Patheos article asks what would happen if our first female President got there by overlooking decades worth of sexual accusations by powerless women against her powerful husband.  "Feminists?  Wouldn't that set a terrible precedent and validate "rape culture" that we hear so much about?"
It goes to show that all of the hand wringing over the impending "rape culture," is just a farce.  When conservative women are hurt, liberals look the other way.  When liberal men are predators, everyone ignores it.
Let's please stop the hypocrisy, and go ahead and stop Hillary while we're at it.
Are you with me, feminists?
Didn't think so.

Read more on the Patheos Faith and Family Channel, follow Nancy on Facebook, Twitter, and Instagram!