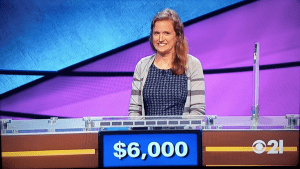 It wouldn't surprise me if this Jeopardy contestant was from Alaska. We tend to just tell things how it is, even if it's not politically correct or if some thin-skinned people find it offensive.
Watch her Final Jeopardy answer to a question where she asked to name a flower that is also a disparaging term for liberals.
You'll laugh. You'll nod in agreement. And you'll want to hang out with her.
So good!  Couldn't have said it better myself!
This tweet says it all:
Wherever you are this morning Jeopardy girl, I tip my hat to you. #liberals #pansy #Jeopardy pic.twitter.com/u9uUrxpqjT

— Harry Chaconas (@HarryChaconas) October 24, 2015
Read more on the Patheos Faith and Family Channel, fan me on Facebook, follow me on Instagram and follow this blog on Twitter!