We hear about how much celebrities are airbrushed in magazines all the time.  But 19-year-old star Zendaya decided enough was enough, and recently called out a magazine for releasing photos of her that were altered.
Zendaya is known for putting haters in their place (especially hair haters) and has fully embraced her own style aesthetic (her fashion philosophy will be your new getting-ready mantra). Now, she's shutting down photoshop fails. She just released an unretouched photo from a recent magazine shoot on Instagram after realizing her "19-year-old hips and torso" were "misrepresented."

The star posed in a belted moto jacket and black briefs for Modeliste Magazine, but said as soon as she saw the shots she was "shocked" to find her hips manipulated to half their original size. She wrote, "These are the things that make women self conscious, that create the unrealistic ideals of beauty that we have."
Here is
her Instagram photo
: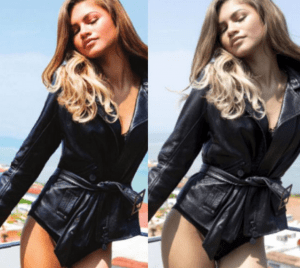 It is insane to me that Hollywood's standard of beauty is so unrealistic that they would want to touch-up a beautiful, thin girl like Zendaya!  How could anyone ever live up to this standard?
It is so refreshing to see a young Hollywood star standing up to the absurdity and releasing an untouched photo.  In an era dominated by filters and touch ups, our culture desperately needs more role models who aren't willing to let their image be turned into some unattainable standard of beauty!
Read more on the Patheos Faith and Family Channel, fan me on Facebook, follow me on Instagram and follow this blog on Twitter!