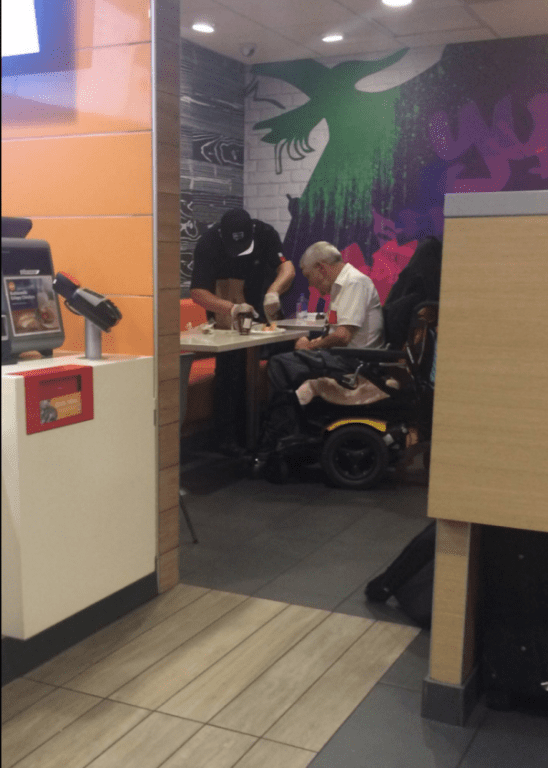 A McDonald's employee recently touched the heart of a customer and his cooperation with a random act of kindness. A woman named Destiny Carreno was standing in line when she quietly snapped a picture of an employee assisting an elderly man. When she posted it to Facebook, her story went viral with nearly a million views and shares:
Carrero wrote that she was in line waiting to order when the man, who was in a wheelchair, took his food, before asking: "Please help me."

"Neither of us knew what help he needed, and the cashier suggested a few things before he figured out the gentleman needed help cutting and eating his meal," the Facebook post read. "To be honest, I thought the cashier wasn't going to help, especially during rush hour in downtown Chicago, but to my shock, he shut down his register and disappeared from view."

The McDonald's franchise owner, Rod Lubeznik, said in a statement sent to NBC that the company is very proud of the employee, who they identified as Kenny. He added the restaurant chain is "overwhelmed by the positive response [Kenny] has received for his compassion and kindness."

"It's a true testament to who Kenny is, and a reminder to us all that one seemingly small act of kindness can touch the hearts of so many," the statement read.
I love to start my day with these kinds of stories. Like Carrero said, "compassion has not gone out of style," and Kenny certainly proved to be that inspiration to hundreds of thousands. His story was the beautiful reminder I needed today.
If you love this nation, like America the Beautiful on Facebook: