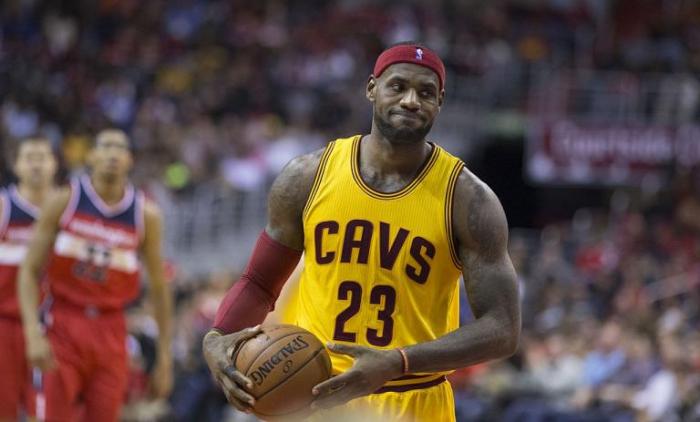 In September, LeBron James held a long press conference to give his feelings and thoughts about the President of the United States.  (This was after he called President Trump a "bum" on Twitter.) LeBron's political analysis included his thoughts on why people in his home state of Ohio voted for Trump.
"I don't think a lot of people was educated," he said.
Okay. But now he's at it again.
"The number one job in America … is someone who doesn't understand the people, and really don't give a f— about the people," he had said. "It's not even a surprise when he says something. It's like, laughable. It's laughable and it's scary."
When a commentator on Fox News suggested he "shut up and dribble," he didn't take kindly to that. SBNation reports:
At the 2018 NBA All-Star media day, LeBron James spoke about social injustice and equality in response to the Fox News host who suggested he "shut up and dribble."

"We're back to everything I've been talking about over the last few years," James said to the media. "It lets me know that everything I've been saying has been correct for her to be having that type of reaction.

"We will definitely NOT shut up and dribble. I'm definitely not going to do that. I mean too much to society. I mean too much to the youth. I mean too much to the kids who feel like they don't have a way out and need somebody to lead them out of the situation they're in."
Here's the video:
LeBron on Laura Ingraham's comments: "We will definitely not shut up and dribble. I will definitely not do that." pic.twitter.com/z3GMVPmriF

— SB Nation (@SBNation) February 17, 2018
I love it that people are more politically active than ever.  But calling people ignorant and mischaracterizing each other is not the right way to go.
Image Credit: By Keith Allison from Hanover, MD, USA (LeBron James) [CC BY-SA 2.0 (https://creativecommons.org/licenses/by-sa/2.0)], via Wikimedia Commons
Hat tip: SBNation