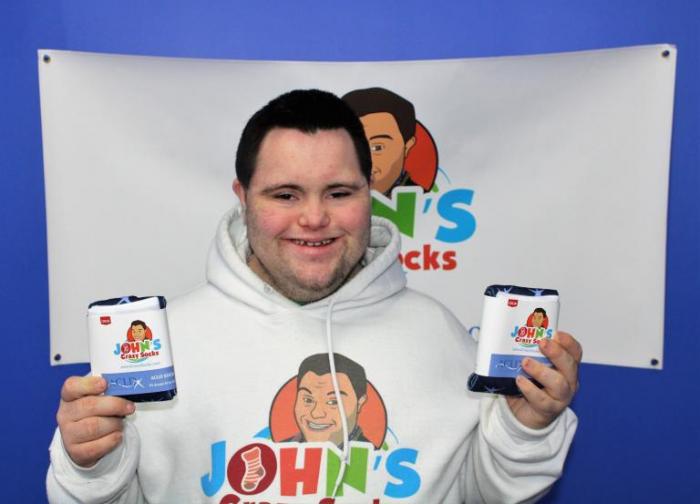 This is unbelievable!
Twenty-one year old John Cronin — who happens to have Down syndrome — launched a million dollar sock company, along with his dad's help.  The mission of "Crazy Socks" is to "spread happiness."  Here are the four pillars on which their business is founded:
Socks: We offer over 1,200 socks so that you can find the perfect socks for you or to give as a gift. Our customers love our socks.
Fast and Personal Shipping: We ship same day so most customers get their orders within two days and we make it personal. Every package contains a thank you note from John and candy. Free shipping in the US at $40.
Giving Back: We donate 5 percent of our earnings to the Special Olympics and we've created a series of Awareness and Charity socks and donate money form each pair of socks to causes like Down syndrome and Autism awareness, the Special Olympics and breast cancer research.
Proving What's Possible: We're a business started by a man with Down syndrome. We hire people with disabilities. We do all we can for our customers. We believe that doing the right thing is the best business.
Guess what?  The company is now a million dollar company.  That's a lot of happiness!
Click here to buy some socks, and watch their sweet story below:
This man with Down syndrome is using his million-dollar company to show the world what people with learning disabilities can do pic.twitter.com/fg1GmFP9XC

— NowThis (@nowthisnews) February 10, 2018
Image Credit: Screen Cap from Twitter video