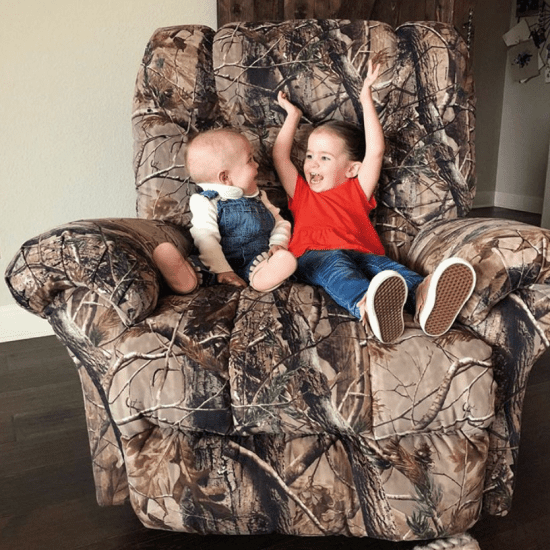 Hey guys! It's been a long time since I shared some personal photos, but I wanted to show you what's been going on in my life lately. And, as you might imagine, it's all about family.
How do you like these two in this gigantic camouflage chair? (Wait, can you even see the chair? LOL!) It reminds me of the Brad Paisley song about camouflage, which includes the lyrics, "ain't nothing that doesn't go with camouflage. You can blend in in the country; You can stand out in the fashion world; Be invisible to a white tail, irresistible to a redneck girl."
That's pretty much it. I also love this part of the song. "The only thing as patriotic is the old red white and blue," he sings, "is green and gray and black and brown and tan all over too." Then, he describes his favorite "color" as " designed by Mother Nature and by God." Ha! I love that.
One thing's for sure. My kids will definitely be growing up in camouflage. I want them to be raised comfortable in the outdoors, not just addicted to various screens and technology. Though it takes more effort to make sure they experience the great outdoors, but it's worth it!