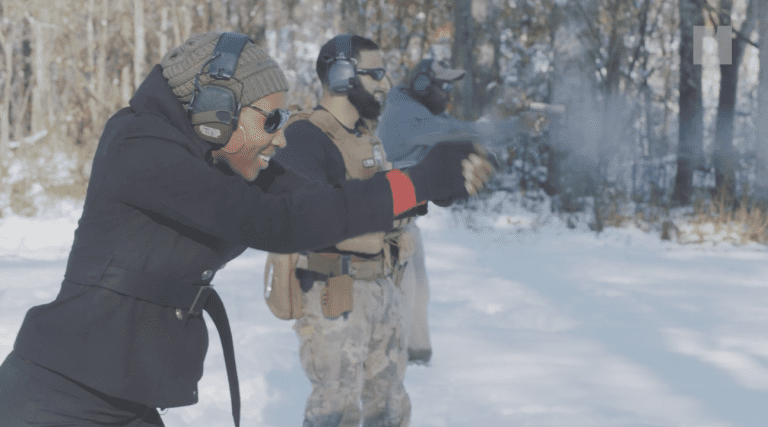 Marchelle "Tig" Tigner-Washington is a national guard veteran and a firearm instructor who owns her own gun training organization called "Trigger Happy."  Plus, she's the former associate director for training at the National African-American Gun Association (NAAGA) which fights "for the inalienable right to self-defense for African Americans."
(How cool is it that this organization exists, by the way?)
In other words, she's not the type of person that is typically featured on the liberal website Huffington Post.  Yet, they did feature her!  In one way, it does make sense.  HuffPo says that it's for women's rights and women empowerment…  and there's no better way to protect yourself than through the safe use of firearms.  In fact, Tigner-Washington is a survivor of sexual abuse.  "When I started working at the range, I realized, 'Hey I feel more safe walking around now,'" she said.
And she gets great satisfaction from seeing that transformation in other women.  Independence Journal Review reports:
"I think a lot of women, sometimes, we have this mentality that 'Oh, someone's going to save us,'" Tigner-Washington said. "And I try to inform the women that 'Hey, you can be your own protector,'" she added.

She also seemed to address how her identity as a black woman conflicted with the public's perception of a shooting instructor:

"There's these boxes that people put everyone in and I wish we can kind of do away with them. In the textbook definition of a conservative, you're pro-gun and then in the textbook definition of a liberal, you're anti-gun … It's really tough trying to separate and look at people as just individual people and not 'I'm one group or I'm another group.' I try to identify myself as just 'Hey, I'm Marchelle, that's it. I like guns and I'm an instructor.'"

In the video, she said she served as the associate director for training at the National African-American Gun Association (NAAGA) which advocates "for the inalienable right to self-defense for African Americans."
Watch the video below — and Kudos to HuffPo for showcasing this incredible woman.
Image Credit for the Featured Image: Screen shot of the embedded Huffington Post Video
Hat Tip: Independence Journal Review