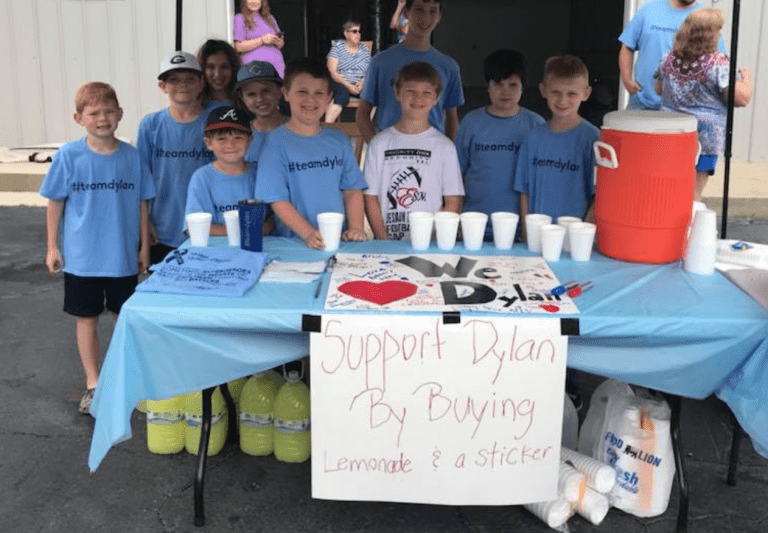 Oh my gosh, how sweet!  A 9 year old boy in South Carolina wanted to do something — anything — to help his little brother who has a rare neurological condition.   So, he did what kids frequently do: he set up a lemonade stand.  (Adding a modern twist, he also sold tee shirts with the hashtag #TeamDylan.)
Andrew Emery went to a used truck dealership in Greenwood and, well, he did it.
In just two hours, the kid pulled in $6,000.  The Daily Mail has the details:
He raised $5,860 to be added to $1,300 raised at a Friday benefit concert and $5,600 from a GoFundMe site for his brother.

'I'm gonna spend it on doctor's bills and stuff and buy him a teddy bear too,' Andrew told The Index-Journal.

'I just want to help Dylan. He's my baby brother.'

The baby boy is currently at a hospital in Pittsburgh after being diagnosed with Krabbe disease – a rare and often lethal neurological condition.

Andrew said he had always wanted to be a big brother and the excitement only built when his father Matt and his wife Melissa announced they were expecting.

'I wanted her to have a boy. There's too many girls at home,' Andrew said.

The elementary school student regularly keeps an eye on his baby brother via Facetime while he remains in the hospital.
How precious is that?  It is beyond sweet to see a family stick together and to see a community rally behind this sweet little baby's cause.  Very inspirational!  I know that Andrew's mother must be so proud of him!
Image Credit: #TeamDylan Facebook page
Hat Tip: Daily Mail