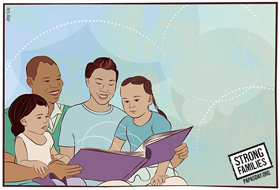 Check out the great series of e-cards for Papa's Day 2013 from Strong Families. Some of the images are embedded here.
This builds on the success of the Mama's Day campaign in recent years, which I talked about last month. It all comes from the organization whose motto simply is: "All Families Matter."
Strong Families is a home for the 4 out of 5 people living in the US who do not live behind the picket fence—whose lives fall outside outdated notions of family, with a mom at home and a dad at work. … From a lack of affordable childcare and afterschool programs, to immigration policy and marriage equality, the way we make policy and allocate resources needs to catch up to the way we live.

We see the trend of families defining themselves beyond the picket fence—across generation, race, gender, immigration status, and sexuality—as a powerful and promising development for the US, and we want to help policy makers catch up.

Our vision is that every family have the rights, recognition and resources it needs to thrive.
I love the fact that Father's Day as a nationally recognized day in the U.S. only came after the success of Mother's Day, originally an anti-war peace and reconciliation campaign. Whatever it means for you, consider also honoring the men in our communities who don't fit the stereotypical norm of fathers in this country.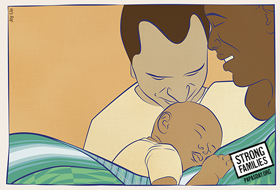 SPARK Reproductive Justice Now has joined Strong Familes with their efforts this week:
SPARK will highlight African-American Papas by hosting a twitter chat to discuss contemporary media portrayals of Black fatherhood, launch an article honoring our feminist forefathers, and feature statements of solidarity from fathers who are standing with Black women for reproductive freedom for our communities….

Whether you call him Dad, Dadda, Coach, Popps, Uncle, or Papa – this year we are celebrating Fathers's Day, to share the breadth and depth of our families' experiences with caregiving!
Here is some of their conversation with father and social justice activist, Terrence Courtney:
"How do you work in solidarity with Black women in the fight for reproductive justice?"

"The work that I do as an organizer with the Black Alliance for Just Immigration (BAJI) and all the work I've done as an organizer for nearly 2 decades has been about the task of dismantling oppression. Through study and practice, I've learned that the many forms of oppression that exist are interrelated in an intersecting matrix that impacts the life chances of Black women and Women of Color the most. …

When we are able to liberate Black women from this triplet of oppression, we then can see a bright horizon of freedom for the rest of society. This is why I am a supporter of healthcare access, reproductive choice, and the elimination of shackling incarcerated [pregnant] women in general, and Black women specifically. Moreover, when I organize for human rights as a way to help destroy oppression, I believe it's necessary to prioritize base building, alliance building, consciousness-raising, and leadership development for Black women."
For more, head over to the Papa's Day website, the Strong Families blog, and the SPARK page and get involved with #PapasDay.