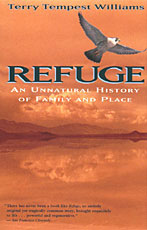 Many good things can be said about Terry Tempest Williams' 1991 spiritual memoir, Refuge. Its subtitle reveals that it is in part about the intimate connection between people and the natural world: "An Unnatural History of Family and Place." I've heard people talk about and praise this book over the decades since its release, and just now got around to reading it in full.
One passage stands on its own and needs to be read and considered by as many people as possible. It's on pages 240-241:
In Mormon theology, the Holy Trinity is comprised of God the Father, Jesus Christ the Son, and the Holy Ghost. We call this the Godhead.

Where is the Motherbody?

We are far too conciliatory. If we as Mormon women believe in God the Father and in his son, Jesus Christ, it is only logical that a Mother-in-Heaven balances the sacred triangle. I believe the Holy Ghost is female, although she has remained hidden, invisible, deprived of a body, she is the spirit that seeps into our hearts and directs us to the well. The "still, small voice" I was taught to listen to as a child was "the gift of the Holy Ghost." Today I choose to recognize this presence as holy intuition, the gift of the Mother. My prayers no longer bear the "proper" masculine salutation. I include both Father and Mother in Heaven. If we could introduce the Motherbody as spiritual counterpoint to the Godhead, perhaps our inspiration and devotion would no longer be directed to the starts, but our worship could return to the Earth.

My physical mother is gone. My spiritual mother remains. I am a woman rewriting my genealogy.
In the larger context of the book, this passage reflects the intimate and painful experience Williams' has living with the process of her mother's dying as well as the 1987 flooding of the Great Salt Lake. The way that physical and spiritual, human nature and nonhuman nature, birds and women, all intertwine are captured in her poetic writing.
Williams' wrote recently about her Mormon feminist awakening, and you can read more about that in a 2011 piece in The Progressive. It's a great summary of the women's reproductive health movement over the past century ("the world is splitting open,") and toward the end of it she relates a story of being summoned to her Church headquarters shortly after Refuge was published. It turned out to not be for this un-orthodox theological suggestion about the Motherbody, but rather for something more personal altogether:
What disturbed him most was that my husband and I had chosen not to have children. This was the threat I posed. I had a voice. He asked me if I realized that by not becoming a mother, I, too, would become an endangered species leading future generations of spirit-children down the path of extinction just like the wild birds I so loved and championed.

The phrase that my religious leader uttered that I have never been able to forget was this: "Just as a mother bird has no choice whether or not she will lay her eggs, she must, God insists. So the eggs you possess, over which your husband presides, must also come forth. Will you choose to become a Mother of Zion, or will you allow your womb to become empty and barren, defying the faith of the women who came before you?"

In that moment, I became a feminist. In that moment, I realized that to control a woman's body and deny her the choice over her own reproductive health is to silence her individual voice and rob her of her innate power, which is the power to choose her own life's path. To control women is another way of controlling nature.
Please. Read more Terry Tempest Williams.